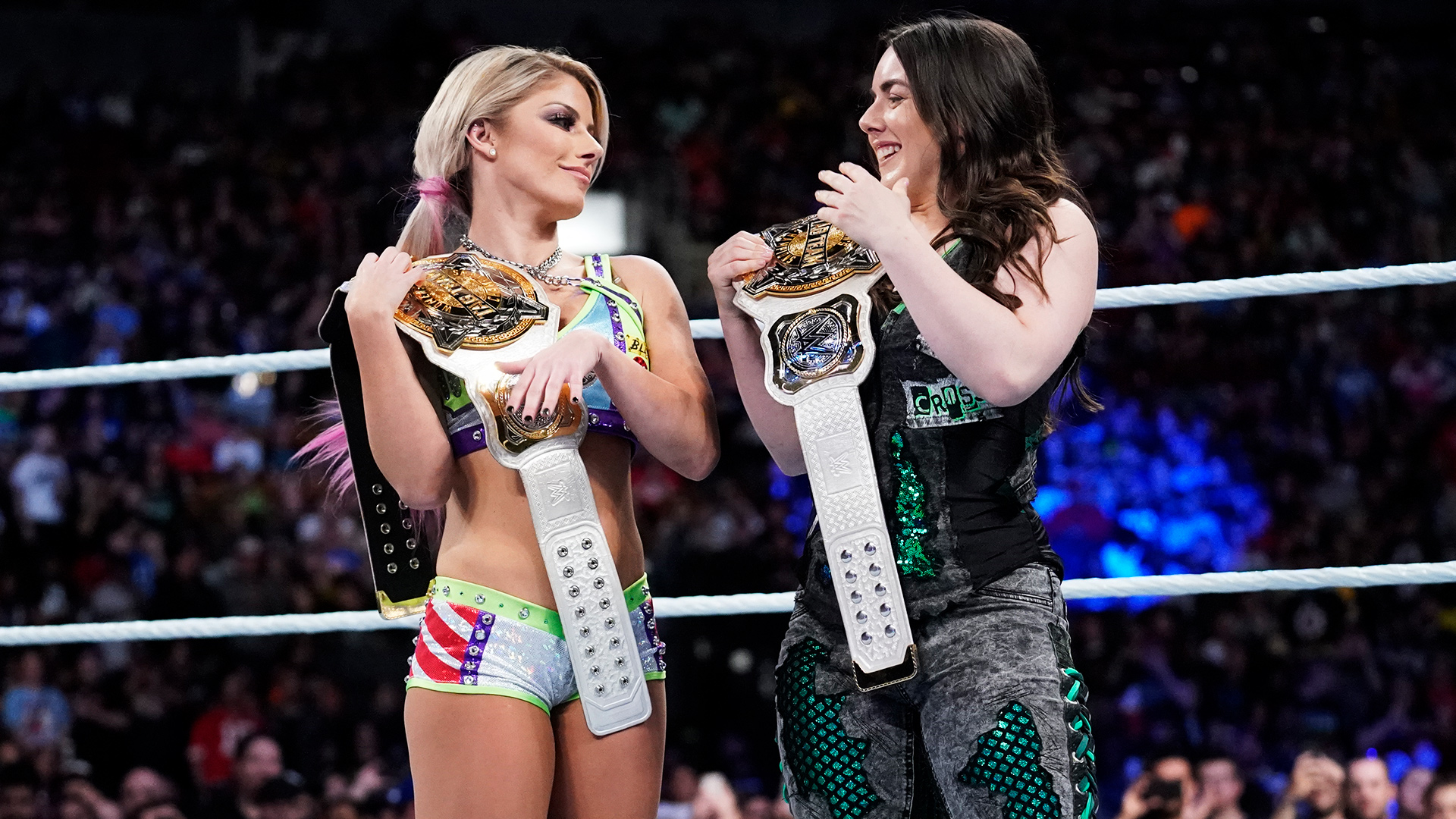 WWE Women's Tag Team Titles Match: The IIconics vs. Alexa Bliss and Nikki Cross

Back from a break and w go to the ring as Tom Phillips is at ringside with Corey Graves and Byron Saxton. Out first are the new WWE Women's Tag Team Champions Alexa Bliss and Nikki Cross. Bliss is wearing Buzz Lightyear gear tonight. The IIconics are out next. Peyton Royce and Billie Kay cut promos on how they're here to take back what is theirs, and how they are the future and the future is IIconic.

Kay starts off with Bliss and they go at it. Kay drops Bliss but gets tripped. Bliss dropkicks Kay and takes down Royce as she comes in. They go in and in comes Cross off a tag. Cross goes to work on Royce and hits a crossbody from the top. Royce kicks out at 2. The IIconics turn it around and keep Cross grounded now, taking turns on her. Royce drops Cross again and tags in Kay for the double team.

Kay talks trash to Bliss while keeping Cross grounded in a hold. Cross fights up but Kay slams her for another close 2 count. Royce tags back in for another double team. Royce works Cross around the ring now as Bliss looks on, waiting for the tag. Cross with a jawbreaker out of nowhere. Royce stops Cross from reaching Bliss. Cross ducks but then collides with Royce as they both go for the same move. They both go down. Kay and Bliss tag in at the same time.

Bliss unloads on Kay and drops double knees in the center of the ring. Bliss with the back flip and then tosses Royce out of the ring. Bliss turns around to a big boot from Kay. Cross breaks the pin up just in time. Royce tags in and they go to double team Bliss but she blocks it. Cross jumps on Kay's back and they tumble to the floor. Royce misses a kick to Bliss. Royce drops Bliss with a modified Stunner for a close 2 count. Royce throws a fit at the 2 count now.

Bliss rocks Royce in the corner with a big right hand. Bliss goes to the top as fans cheer her on. Kay tries to stop her but Cross pulls Kay to the floor. Bliss nails Twisted Bliss and covers for the pin retain while Cross keeps Kay from running in.

Winners: Alexa Bliss and Nikki Cross

– After the match, Bliss and Cross stand tall with the titles as Bliss' music hits. We go to replays. Cross and Bliss celebrate as The IIconics back up the ramp.
Related Links:
» Gallery:
Digital Photos
» Gallery:
Screen Captures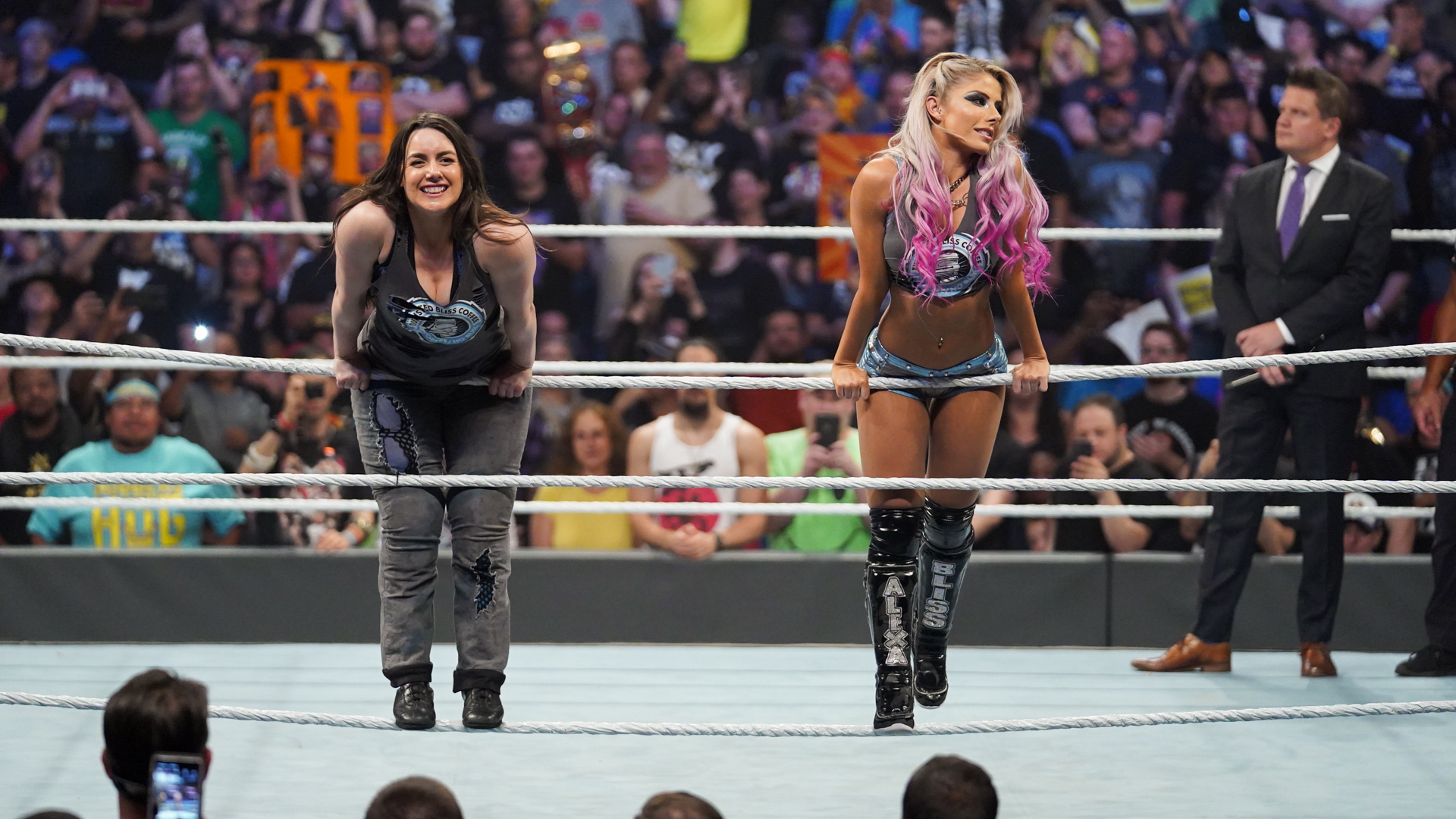 R-Truth and Carmella are backstage looking for WWE 24/7 Champion Drake Maverick. Alexa Bliss and Nikki Cross walk up. They send Truth into the women's bathroom looking for Drake. Bliss has matching t-shirts for she and Cross. WWE NXT Tag Team Champions The Street Profits appear for promos. They talk about the match and Bayley. They also laugh at the idea of Bliss and Cross sharing a title. Cross insists they will become the first co-SmackDown Women's Champions tonight. They walk off. Montez Ford says Cross is intense. Angelo Dawkins asks if it's weird that he really wants to party with her.

2-on-1 Handicap Match for the SmackDown Women's Title: Nikki Cross and Alexa Bliss vs. Bayley

We go to the ring and out first comes Nikki Cross and Alexa Bliss. SmackDown Women's Champion Bayley is out next as Tom shows us some of the other international announce teams in the arena.

We get forma ring introductions from Mike Rome before the match. Graves makes a reference to Sasha Banks on commentary. Bayley and Cross go at it to start the match. Bayley rocks Cross and she tags in Bliss. Bliss charges and Bayley takes her down. Bayley turns it around with offense on the outside and inside. Bliss ends up dropping Bayley at ringside and working her over for a 2 count. Bliss and Cross with quick tags as they keep Bayley down in their corner, stomping away. Bliss yells at the referee. Cross comes back in and hits a neckbreaker for a 2 count.

Cross keeps Bayley grounded in the middle of the ring now. Cross and Bliss with more quick tags and offense. They double team in the corner and the referee yells at Bliss again. Bliss with Insult to Injury on Bayley for a 2 count. Bliss argues with the referee and goes back to work on Bayley but she has a right hand blocked. Bayley looks to make a comeback but Bliss rocks her with a forearm and a kick. Bliss charges but Bayley hits a big clothesline. Bayley mounts Bliss with strikes. Bayley leaps out with a dive to take Cross down on the floor.

Bayley comes back to the apron and drops Bliss over the rope. Bayley with a 2 count. Bayley with a running thrust in the corner. Cross tags in but Bayley nails her with a suplex. Bliss charges but Bayley takes them both down at once. Bayley slams Cross on her face. Bayley rolls Cross into a submission in the middle of the ring now. Bliss runs in to break it up but misses the knee drop. Bayley grabs Bliss and applies a Crossface, while she still has Cross in the other submission. Bliss bites and gets free but Cross is still locked in. Bliss finally comes back in and breaks the hold on Bayley as the referee tries to restore order.

Cross ends up hitting a tornado DDT on Bayley for a 2 count. More offense on Bayley but she hangs on. Bliss tags in and goes to the top for Twisted Bliss but Bayley gets her knees up. Cross tags in and goes back to the top. Bayley knees her in mid-air. Bayley goes to the top and hits the flying elbow on Cross for the pin to retain.

Winner: Bayley

After the match, Bayley stands tall and raises the title as her music hits. We go to replays. Bayley raises the title and smiles from the stage as Cross and Bliss look on from the ring.
Related Links:
» Gallery: Digital Photos
» Gallery: Screen Captures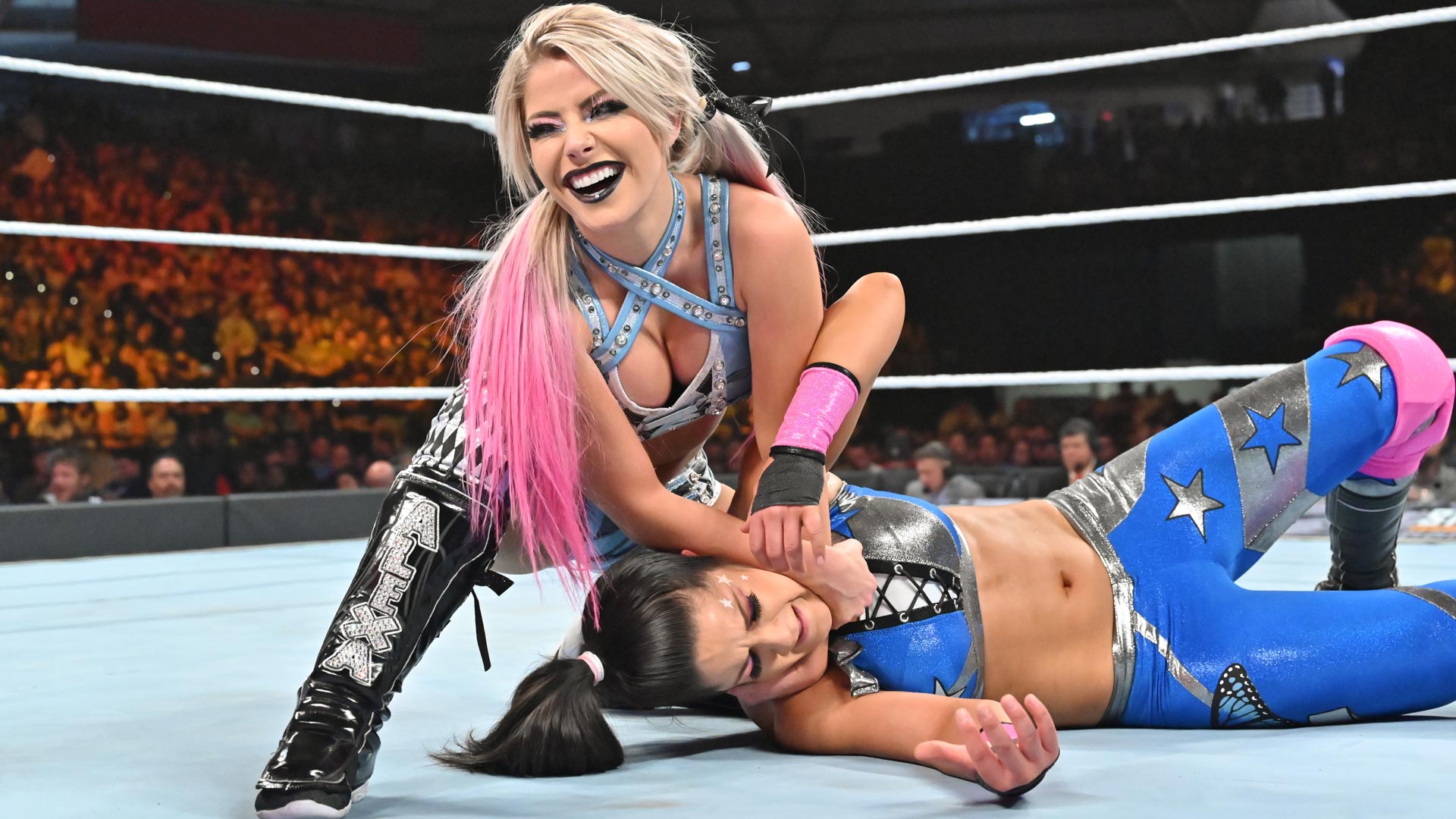 Alexa Bliss and Nikki Cross are backstage talking about Bayley. Nikki says Bayley screwed her over on Monday, and she can't wait to see Alexa take it to Bayley tonight.

Bayley (c) vs. Alexa Bliss: Nikki Cross is at ringside in Alexa's corner. The opening bell sounds and Bayley and Alexa immediately brawl into the corner and trade strikes. Bayley gets the upper hand and hits a running knee strike for a two count. Bayley hits the snake-eyes on Alexa in the corner for a two count. Alexa turns it around and starts teeing off on Bayley in the corner. Alexa chokes Bayley over the middle rope, then applies a rear chin lock. Alexa tries to keep the Champion grounded, but Bayley fights back and hits a running cross body for a two count. Alexa comes back with a slap across the face to the Champion. Bayley fires up now and drops Alexa, then hits the rolling thunder elbow drop. Alexa fights back and dumps Bayley outside, then throws Bayley into a ring post. Back in the ring, Bayley reverses a shot and hits a back suplex. They fight out to ringside again and Nikki causes a distraction. Bayley hits a suicide dive on Nikki on the floor, and it looks like Bliss shoved Nikki in the way of the dive to save herself. Alexa then hits a sunset flip bomb on Bayley on the floor. Back in the ring, Alexa goes up top. Nikki runs in the ring to go after Bayley, but the ref chases her off. Alexa goes for the Twisted Bliss, but Bayley gets her knees up to block it. Bayley follows up with the belly to belly suplex for the three count.

Winner & still SmackDown Women's Champion: Bayley

Nikki gets in the ring earlier and tries to console Alexa as Bayley celebrates. Alexa looks confused by what happened.
Related Links:
» Gallery: Digital Photos
» Gallery: Screen Captures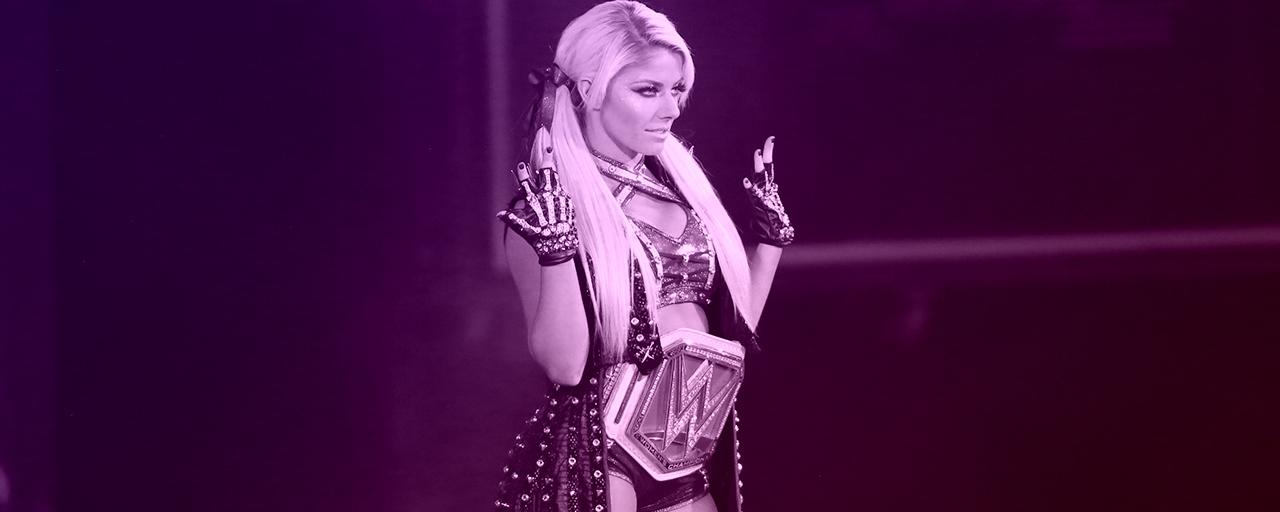 WWE Raw Women's Title Match: Alexa Bliss © vs. Ronda Rousey

Rousey went right at her but Bliss coward away and hide behind the referee. Rousey sat in the ring and allowed Bliss to get a headlock on her but Rousey stood up and hit her powerslam finisher that sent Bliss rolling out of the ring. Bliss landed a right hand but Rousey no sold it and flipped her. Rousey with a series of right hands then a hip toss. Rousey with a powerslam. Rousey bent the arm bar and made Bliss look like she dislocated her elbow then locked in the armbar for the win.

Winner: Rousey
Related Links:
» Gallery: Digital Photos
» Gallery: Screen Captures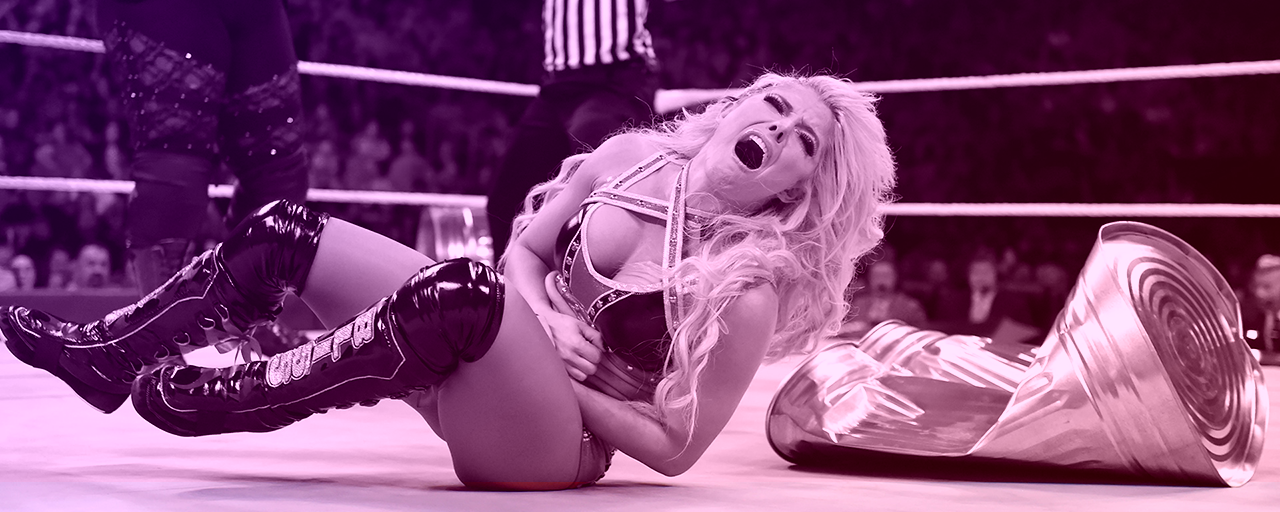 WWE Raw Women's Title Extreme Rules Match: Alexa Bliss © vs. Nia Jax

Jax went right after Bliss, who tried to grab several weapons only to have Jax toss them out of her hands. Jax knocked her down and tossed her back into the ring. Jax tossed Bliss onto a chair then landed a headbutt and hit a powerslam face first onto a trash can. Bliss with several trash can lid shots to the challenger. Bliss with a drop kick for 2 then wedged a chair in between the ropes and sent Jax shoulder first. Mickie James got on the apron but Natalya knocked her down and attacked her. Bliss then attacked Natalya and tossed her into the barricade. This led to Ronda Rousey jumping the barricade and tossed James into the barricade and ring apron. Rousey hit her finisher to James in the ring. Rousey went after Bliss and chased her around ringside. James hit Rousey in the back a few times with the kendo stick. Back in the ring, Bliss went for a flying crossbody off the top rope but Jax caught her. James hit Jax in the back with a chair and Bliss hit her several times with it. Bliss with a DDT to Jax on a chair for the win.

Winner: Bliss – New Champion.
Related Links:
» Gallery: Digital Photos
» Gallery: Screen Captures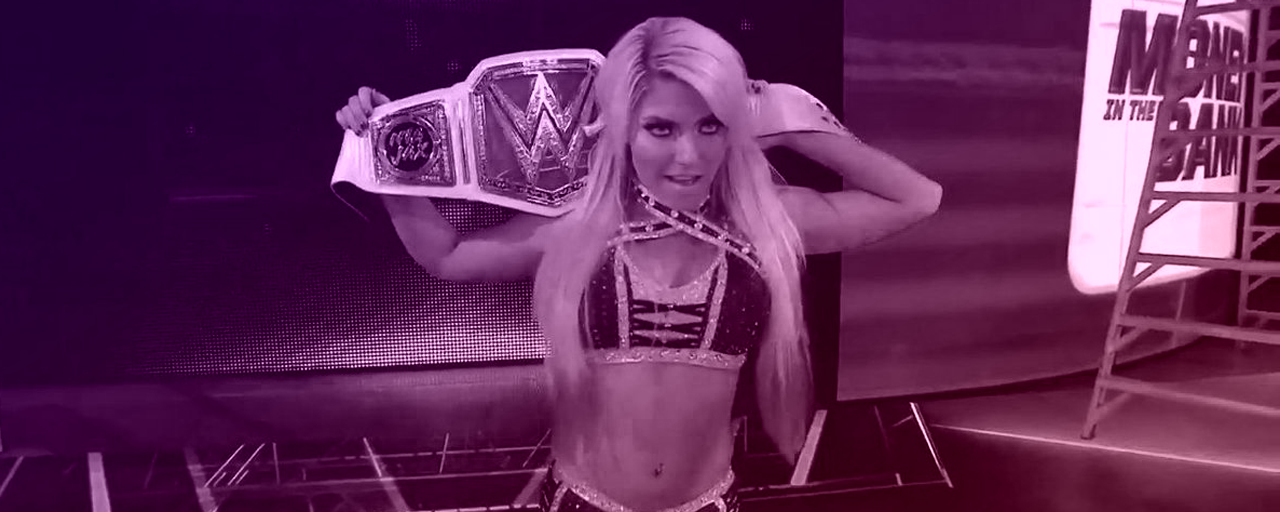 Women's Money In The Bank Ladder Match: Ember Moon vs. Charlotte Flair vs. Alexa Bliss vs. Becky Lynch vs. Natalya vs. Lana vs. Naomi vs. Sasha Banks

They start brawling to begin the match. Lynch drop kicked Natalya and Flair with ladders in their hands. Moon knocked down Lynch and sent Natalya into the steel steps. Moon with a stepping kick to Naomi then a super kick to Banks twice. Moon tossed Naomi to the floor and hit an enziguri to Banks. Moon hit a spring board crossbody to Banks onto a ladder. Lana pulled Moon down by her hair then hit her in the gut with a ladder. Lana with an x-factor to Moon onto the ladder. Lana set up a ladder in the ring but Natalya clotheslined her. Natalya with a suplex to Lana on a ladder. Natalya powerslamed Naomi onto a ladder and then hit a drop kick. Flair with a series of chops to Natalya then a powerslam. Flair and Lynch started fighting over the ladder in the ring which led to Naomi using it as a spring board to clothesline Natalya. Naomi with a drop kick to the ladder held by Flair and Lynch. Bliss pulled out the ladder of the ring and Naomi hit a spring board crossbody to her. Naomi with an over castle off the apron to Banks. Lynch tried to climb the ladder but Moon and Naomi knocked her off then hit her in the head with the ladder. They would hit a double drop kick to Lynch in the corner. Naomi with a series of kicks to Moon, who fired back with a knee strike. Naomi with a monkey flip but Moon was able to hit a hip toss onto the ladder. Banks with a knee strike then sent Moon into the ring post. Banks with a head kick to Lana then stacked her onto Moon who was on the ladder and hit a double knee drop. Flair pulled Banks off the ladder. They got back up it and knocked each other off. Flair with a neck breaker to Banks. Flair went for the Razor's Edge but Banks kicked her way out and climbed the ladder. Lynch knocked Banks off the ladder, who crashed onto Natalya, Flair and Banks. Bliss stopped Lynch with a forearm shot then climbed the ladder. Banks stopped her and they both climb the ladder. Another ladder is set up in the ring with several stars fighting for the briefcase. Natalya powerbombed Banks into one ladder that knocked it over. Flair with a big boot to Natalya then powerbombed Moon onto a ladder in the corner. Flair took out Lana but Bliss with a sunset flip powerbomb. Lana with a head kick to Bliss and locked in the Accolade. Naomi spring boarded her way onto the ladder and got to the briefcase but Lynch stopped her. Lynch and Flair climbed the ladder and they had a staredown. Bliss pushed them off the ladder but Flair was able to stay on her feet and hit a spear to Bliss. Banks with the back stabber to Flair, Naomi knocked Banks into the ladder and Lana knocked Naomi off the ladder. Natalya with an electric chair drop to Lana. Moon knocked Natalya off the ladder and Flair speared Moon onto a ladder. Flair ate a knee strike by Lynch, who hit a suplex. Lynch climbed the ladder but Bliss knocked her down crashing onto another ladder and grab the briefcase for the win.

Winner: Alexa Bliss

WWE Raw Women's Title Match: Nia Jax © vs. Ronda Rousey

Rousey with the Rock Bottom and then was about to lock in the armbar but Alexa Bliss came from under the ring and hit Rousey several times with the MITB briefcase. Bliss sent Rousey into the ring post and over the announce table. Bliss hit Jax with the briefcase several times.

Winner: Rousey wins by DQ.

WWE Raw Women's Title Match: Alexa Bliss vs. Nia Jax ©

Bliss with a DDT and Twisted Bliss for the win!

Winner: Bliss – NEW CHAMPION
Related Links:
» Gallery: Digital Photos
» Gallery: Screen Captures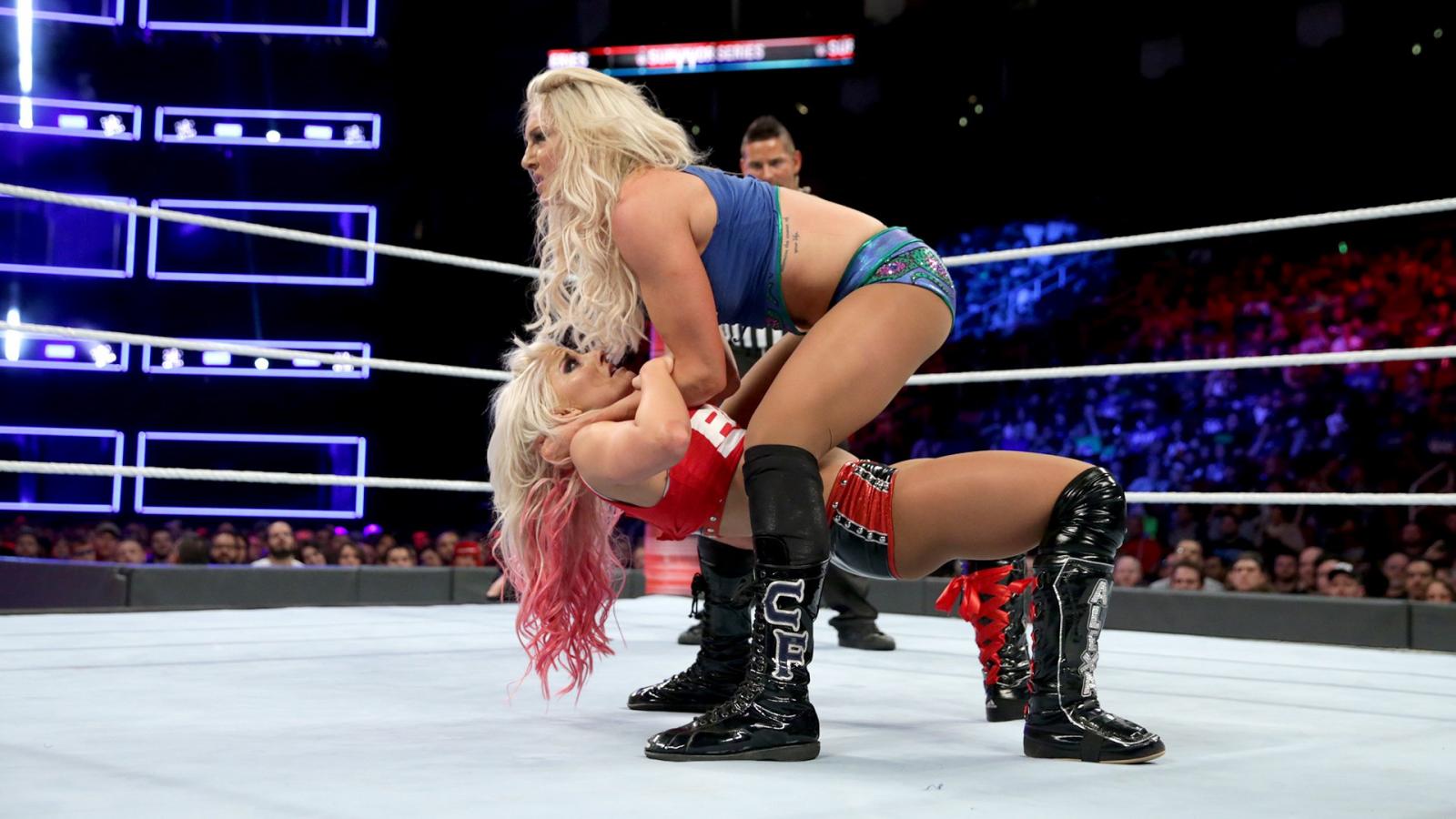 SmackDown Women's Champion Charlotte Flair def. Raw Women's Champion Alexa Bliss

Charlotte Flair's SmackDown Women's Championship victory this past Tuesday on SmackDown LIVE brought not only a new matchup to Survivor Series, but also a battle between, arguably, 2017's two most dominant female Superstars.

It should come as no surprise then that a big fight feel filled the air in Houston's Toyota Center as the only two women to ever hold both the Raw and SmackDown Women's Titles squared off in head-to-head competition.

Flair immediately used her size and strength advantages to take control. Bliss was not afraid, though, turning the tides by viciously dropping Charlotte to the floor two separate times. Little Miss Bliss' attacks were continuous, giving Flair no breathing room whatsoever (that guillotine, anyone?) and having an answer for every comeback The Queen attempted to mount.

Flair was finally able to get back into the contest with a desperation powerbomb that evened the playing field. From there, the two busted out their best with Five Feet of Fury kicking out of Natural Selection and avoiding a picture-perfect moonsault. Flair escaped defeat from Bliss' signature DDT by getting her foot on the bottom rope just in the nick of time.

The SmackDown Women's Champion powered on, despite her ribs having been brutalized throughout the duration of the contest. She connected with a jaw breaking kick to Bliss' face before locking in the Figure-Eight Leglock for the win to give SmackDown a 3-2 advantage on the scorecard.

Typically, deities outrank royal figures. On this night, however, The Goddess bowed down to The Queen.
Home > World Wrestling Entertainment > Event Digitals > Pay Per View > 2017 > No Mercy
Home > Screen Captures > World Wrestling Entertainment > Pay Per View > 2017 > No Mercy
One huggable home-state hero, one legit boss, one self-proclaimed Women's Revolutionary, one powerhouse, no problem. Alexa Bliss is still Raw Women's Champion, defying every odd imaginable to withstand a wild Fatal 5-Way that put her in the path of Sasha Banks, Emma, Nia Jax and Bayley, who was making her in-ring return after suffering a shoulder injury last month.

The match, unsurprisingly, turned into a game of cat-and-mice, with everyone not named Nia Jax uniting against the mighty Superstar in their attempt to take the most impactful player out of the game. At one point, Emma attempted to do so by herself — just one of many audacious undertakings she took in order to finally prove to the WWE Universe that she should be recognized as the originator of the Women's Revolution.

But no amount of boldness could distract from the Nia Jax show; she pulverized everyone and everything in sight, most spectacularly with a double Samoan Drop to both Bliss and Banks. It took two group efforts by all four opponents to take her out — first, a simple dump out of the ring, and later, a savage combo of a double dropkick/powerbomb off the ring apron to the floor.

That second attempt, for a while at least, did the job, and what ensued was a chaotic free-for-all. Sasha and Bayley even came as close to blows as they have since their time together in NXT, breaking up each other's respective finishers and trading pinfall attempts on a beleaguered Bliss.

The resurgence of Jax stopped the action cold, though Emma proved herself an unlikely hero by saving Banks from a pinfall after Nia dropped a leg on her sternum. Bliss quickly got involved by ejecting Emma from the ring, and an intended charge into the corner finally took Nia out of the action when she missed her target and collided with the turnbuckle. Bliss threw Bayley into Emma as she attempted to interfere and planted The Huggable One with a devastating DDT for the victory.

If you thought Alexa would be humbled by the odds she had to overcome, however, you'd be mistaken. In a post-match interview with Renee Young, Bliss claimed she stood above the stars of Hollywood as Raw's one and only Women's Champion and the only true "Goddess" in WWE. In fairness, this is true. There aren't many people who have been able to stand toe-to-toe with the "Goddess" … so far.