Home > World Wrestling Entertainment > Event Digitals > Pay Per View > 2017 > No Mercy
Home > Screen Captures > World Wrestling Entertainment > Pay Per View > 2017 > No Mercy
One huggable home-state hero, one legit boss, one self-proclaimed Women's Revolutionary, one powerhouse, no problem. Alexa Bliss is still Raw Women's Champion, defying every odd imaginable to withstand a wild Fatal 5-Way that put her in the path of Sasha Banks, Emma, Nia Jax and Bayley, who was making her in-ring return after suffering a shoulder injury last month.

The match, unsurprisingly, turned into a game of cat-and-mice, with everyone not named Nia Jax uniting against the mighty Superstar in their attempt to take the most impactful player out of the game. At one point, Emma attempted to do so by herself — just one of many audacious undertakings she took in order to finally prove to the WWE Universe that she should be recognized as the originator of the Women's Revolution.

But no amount of boldness could distract from the Nia Jax show; she pulverized everyone and everything in sight, most spectacularly with a double Samoan Drop to both Bliss and Banks. It took two group efforts by all four opponents to take her out — first, a simple dump out of the ring, and later, a savage combo of a double dropkick/powerbomb off the ring apron to the floor.

That second attempt, for a while at least, did the job, and what ensued was a chaotic free-for-all. Sasha and Bayley even came as close to blows as they have since their time together in NXT, breaking up each other's respective finishers and trading pinfall attempts on a beleaguered Bliss.

The resurgence of Jax stopped the action cold, though Emma proved herself an unlikely hero by saving Banks from a pinfall after Nia dropped a leg on her sternum. Bliss quickly got involved by ejecting Emma from the ring, and an intended charge into the corner finally took Nia out of the action when she missed her target and collided with the turnbuckle. Bliss threw Bayley into Emma as she attempted to interfere and planted The Huggable One with a devastating DDT for the victory.

If you thought Alexa would be humbled by the odds she had to overcome, however, you'd be mistaken. In a post-match interview with Renee Young, Bliss claimed she stood above the stars of Hollywood as Raw's one and only Women's Champion and the only true "Goddess" in WWE. In fairness, this is true. There aren't many people who have been able to stand toe-to-toe with the "Goddess" … so far.
They don't call Alexa Bliss "small but fierce" for nothing. Following a "coronation" this past Monday night that put the new Raw Women's Champion on an all-too-literal pedestal, the self-proclaimed "Goddess of WWE" was victorious in an Eight-Woman Tag Team Match, scoring the victory for her team after raking the eyes of Bayley and pinning The Huggable One.

That win marked the second time in as many nights that Bliss had pinned Bayley — the first being at WWE Payback, where she defeated the fan-favorite Superstar to become the first competitor to win the Raw and SmackDown Women's Titles. Will Bliss maintain her momentum in London, or will Bayley rebound against the new champion's "Five Feet of Fury"?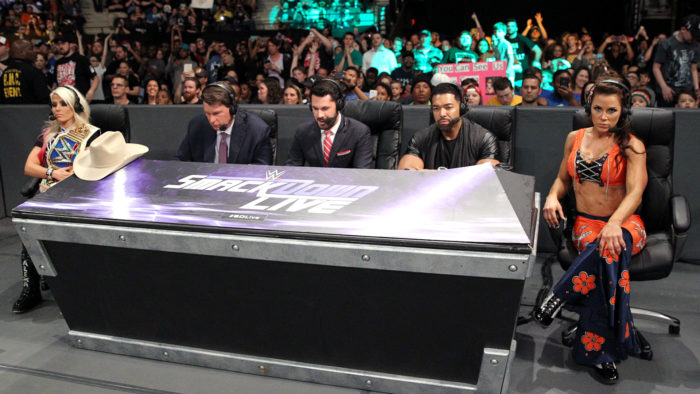 Gallery: Screen Captures > World Wrestling Entertainment > Smackdown > 2017 > March 28th
Gallery: World Wrestling Entertainment > Digitals > Smackdown > 2017 > March 28th
Becky Lynch and Carmella tried to settle their personal score before shifting their focus to the SmackDown Women's Championship Match at The Ultimate Thrill Ride.

However, the opportunity to unleash some aggression was not lost on SmackDown Women's Champion Alexa Bliss or Mickie James – both doing guest commentary for the match. When the sparks began to fly between all four Superstars, Daniel Bryan pivoted the action into a tag team match, pitting Lynch and James against Bliss and The Princess of Staten Island.

With the four feisty Superstars now competing in a tag team match, a degree of uncertainty still loomed over the proceedings, as Natalya had now made her way out to the announce table to observe the action. Though all four opponents were clearly ready for WrestleMania and looking to make a statement, The Queen of Hart(less) interjected herself into the match. With the referee distracted, James Ellsworth tripped up Lynch, allowing Carmella to pick up the victory.

After the contest, the Superstars went at it again, but they would only be able to get their licks in for so long, as Naomi returned to SmackDown LIVE and cleared the ring in a shocking moment! The former SmackDown Women's Champion then pronounced that she would be entering the SmackDown Women's Title Match at WrestleMania and that everyone would be feeling the GLOW!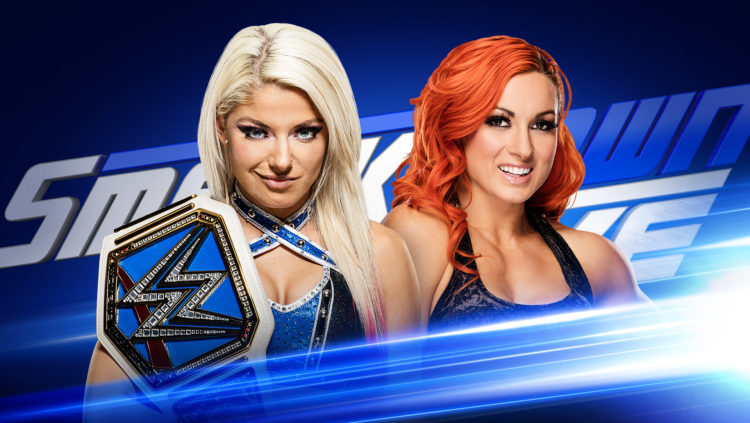 Amid continued interference by a mysterious La Luchadora (and, at times, Las Luchadoras, plural) during recent matches involving SmackDown Women's Champion Alexa Bliss and Becky Lynch, The Irish Lass Kicker made the current titleholder tap out. As a result, SmackDown LIVE General Manager Daniel Bryan has announced that Bliss will defend the SmackDown Women's Title against Lynch next week, and to avoid any outside interference, it will take place within the confines of a Steel Cage!

History will truly be made as a Women's Championship has never before been decided in a Steel Cage Match on Team Blue. Will Bliss be able to withstand the straight fire of Lynch with nowhere to run? Or will WWE's Wicked Witch fend off her No. 1 contender yet again?

Find out next week on SmackDown LIVE, next Tuesday at 8/7 C on USA Network!
Gallery: Screen Captures > World Wrestling Entertainment > Smackdown > 2016 > December 13th
Gallery: World Wrestling Entertainment > Digitals > Smackdown > 2016 > December 13th
The match was originally scheduled to be SmackDown Women's Champion Alexa Bliss taking on a local competitor … but then Alexa Bliss pulverized her before any bell could ever ring. The beat down prompted Becky Lynch's arrival, which led to a verbal spat, which led to Lynch asking for her championship rematch right then and there, which led to SmackDown Commissioner Shane McMahon making the match official … which led to a very disgruntled Ms. Bliss.

Lynch was on fire (no pun) throughout the impromptu contest, keeping SmackDown Live's resident Wicked Witch reeling. It appeared that The Irish Lass Kicker may have been closing in on regaining the title … but then Bliss seemed to injure her leg, causing her to limp around ringside, resulting in her being counted out to lose the match, but keep the championship.

Lynch was ruthless, attacking Bliss after the 10-count, however, Bliss suddenly appeared to be OK once Bliss came back at her. Bliss retreated yet again, with her title and her leg apparently ailing her again.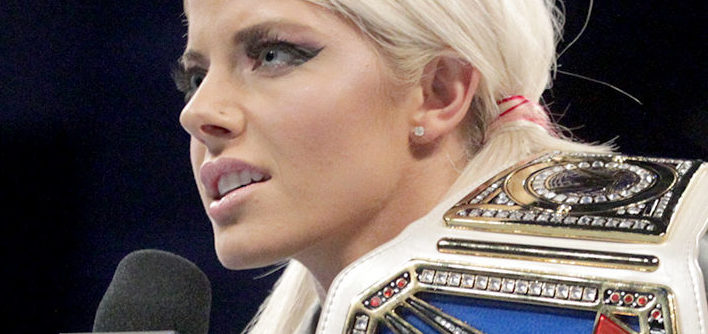 Gallery: World Wrestling Entertainment > Event Digitals > Smackdown > 2016 > December 6th
Gallery: Screen Captures > World Wrestling Entertainment > Smackdown > 2016 > December 6th
Alexa Bliss had planned on having an elaborate championship celebration to commemorate her major title victory over Becky Lynch in a Tables Match at WWE TLC, but The Irish Lass Kicker interrupted and then things just kind of went downhill from there.

Bliss and Lynch hurled insults at one another, with each seemingly questioning every fiber of the other's being before Lynch challenged the champion to a rematch right then and there, prompting Bliss to stoically exit the ring with her title in hand.

Not tonight, Becky.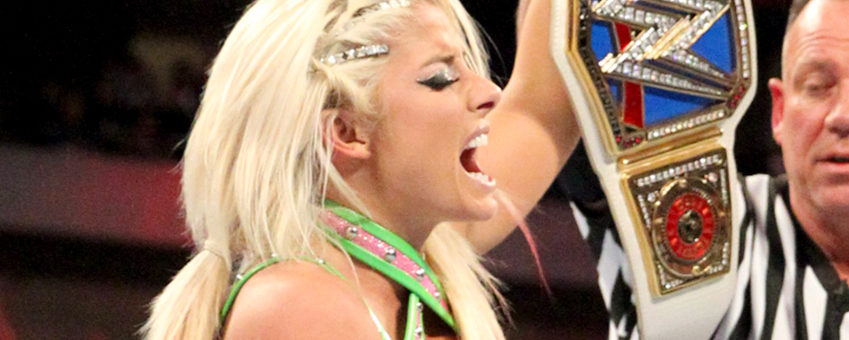 "The Wicked Witch of WWE" didn't need a broomstick to soar to the top of SmackDown's Women's division — just a well-placed table outside the ring.

SmackDown Women's Champion Becky Lynch aggressively went after disrespectful Alexa Bliss in the early goings of the match, looking to end things quick by driving the small-but-fierce challenger through a table at ringside. Alexa turned things around, however, when she actually sunk her teeth into Lynch's hand, proving once again that there's nothing she won't do to unseat the fan-favorite Irish Lass Kicker as Team Blue's female standard-bearer.

That savage streak was on full display during the chaotic final moments of the match, when Bliss powerbombed Lynch through the table at ringside to ensnare the SmackDown Women's Championship, becoming the second Superstar to hold Team Blue's prestigious Women's prize.

Although the conclusion of her last championship encounter with The Irish Lass Kicker – a match seen on SmackDown LIVE in Glasgow last month – was shrouded in controversy, Bliss was unquestionably the better woman at WWE TLC. Visibly shaken after the match, Lynch expressed extreme disappointment in its outcome, leaving many to question what her next move will be, or if her signature #straightfire will burn as intensely as it once did.