Mickie James & Bayley def. Raw Women's Champion Alexa Bliss & Emma
This Sunday, Alexa Bliss will defend her Raw Women's Title against Mickie James, while Emma holds the prestigious if unenviable task of facing Asuka in her Team Red debut. If what happened on Raw is any indication, both women have a long week of soul-searching ahead of them, as they fell to the team of Bayley & James in a fast-paced tag team contest.

Not only did Mickie look every bit ready to claim her seventh Women's Championship, Bayley didn't look far away from title contention herself, holding off Emma and Bliss singlehandedly before tagging James into the fray. A devastating Mick Kick to Alexa minutes later both spelled the end of the contest and sent the champ and her teammate back to the drawing board with only six days to figure it out.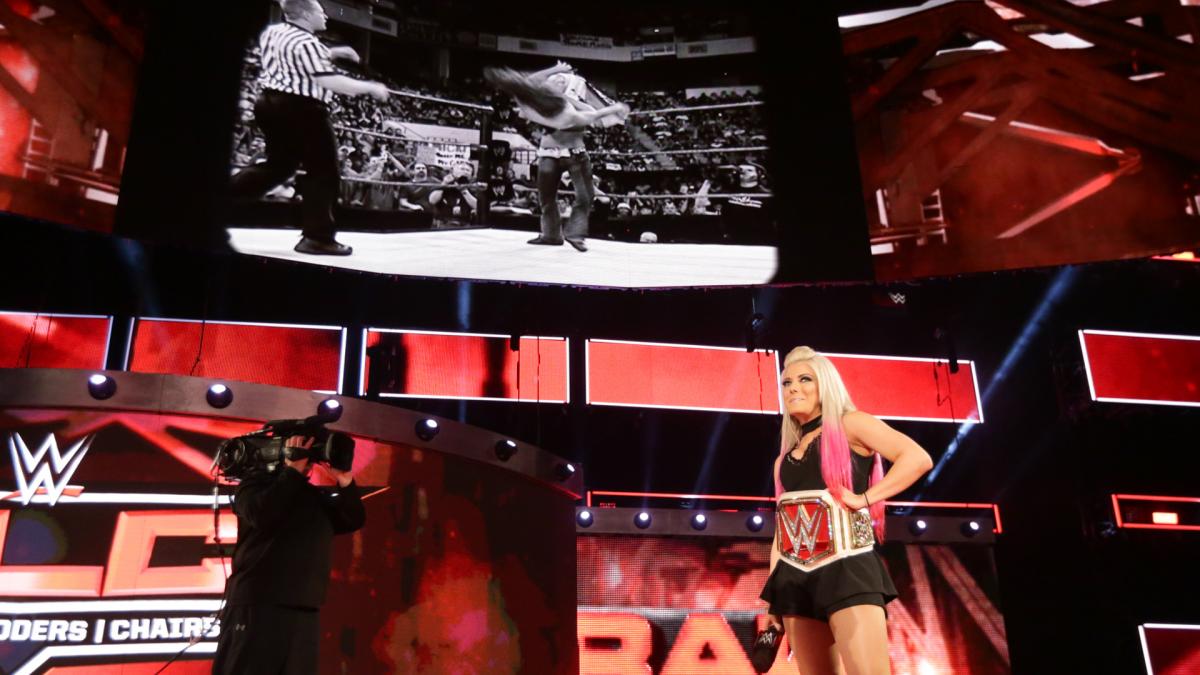 Raw Women's Champion Alexa Bliss presented a Mickie James retrospective

Alexa Bliss vs. Mickie James has become one of the most personal rivalries on Raw, thanks in no small part to Little Miss Bliss attempting to cast the veteran James as an over-the-hill Superstar. And when the six-time Women's Champion took Bliss to task for refusing to talk trash in person, Bliss responded by making her way onto the stage presenting Mickie with a career retrospective … in the form of an old-timey newsreel called "Superstars of Yesteryear."

Mickie took the insults in stride and again challenged Alexa to fight then and there. Little Miss Bliss, who had ventured down to ringside, made it seem like she would take Mickie up on that challenge before turning back up the ramp, but Mickie pulled her by the hair into the ring and fired off a Mick Kick that just missed its mark and sent Alexa scurrying. That highlight reel might need a bit of an addition.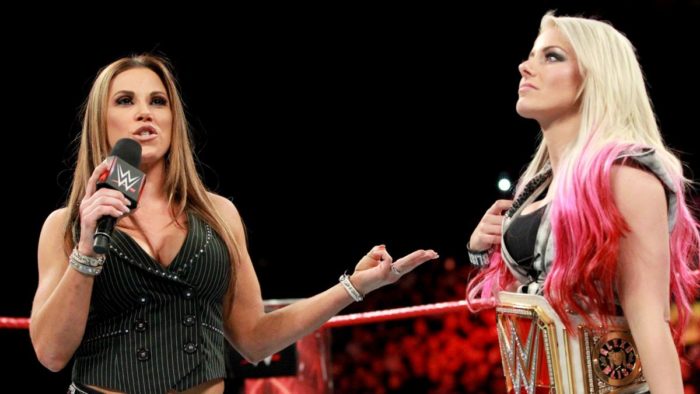 Mickie James proves she's no "old lady"

If not for the interference of Raw Women's Champion Alexa Bliss, six-time Women's Champion Mickie James would have defeated the nigh-unbeatable Nia Jax this past Monday night. Given that strong performance, Raw General Manager Kurt Angle granted Mickie a title opportunity against Little Miss Bliss on Sunday, Oct. 22, at WWE TLC: Tables, Ladders & Chairs.

Can the veteran Mickie usurp "The Goddess of WWE" and silence the disrespectful Alexa, once and for all?
Welcome back to the newly themed AlexaBliss.net! We'd had the same, Red With Envy layout on our main site for nearly the whole first year of our existence. Can you believe that? Partially my fault for leaving our main site unattended for such a long time, but alas, we're back! Our new layout was designed by the lovely Ana of Designtopia.us, who was able to get our two layouts out in less than a weeks time. Pretty spectacular in my opinion! Along with a new layout we've also cleaned up our elite affiliates list to the left of your screen, added a poll section, and the latest Pay Per View results and Total Divas section has been updated. Along with our main site getting a complete makeover, our gallery has a new layout as well, also designed by Ana!

Besides our new layouts, we'd also like to welcome Jenn from AlexaBlissDaily.com to our staff! We'd decided to combine our two sites and become the largest, most-comprehensive source for Alexa Bliss! That way you'll be receiving constant updates, photos, and more from us. I'm super stoked to have Jenn on board with us because I know how good of a site owner she is and I cannot wait to work with her more. Be sure to give her a warm welcome either in the comments or via our Twitter (@AlexaFansite)!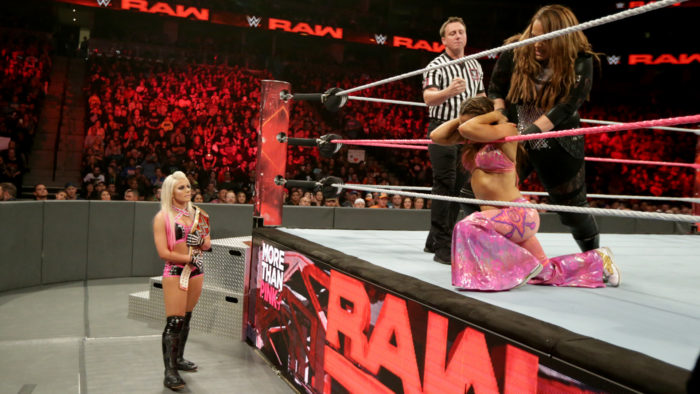 Gallery: Home > Screen Captures > World Wrestling Entertainment > Monday Night RAW > 2017 > October 2nd
Gallery: Home > World Wrestling Entertainment > Event Digitals > Monday Night RAW > 2017 > October 2nd
With Mickie James circling Alexa Bliss, it appears the Raw Women's Champion and Nia Jax's on-again-off-again partnership is on, again. Though, if what happened during Jax's bout with Mickie (a match seemingly finagled by Alexa after a backstage prank put James in the path of Little Miss Bliss' occasional enforcer) is any indication, even that might not be enough to hold James back in the long run.

Not only did Mickie refuse to give in despite a powerful display from Jax, the six-time Women's Champion James pulled off a miracle reversal to hit a tornado DDT off the ropes. The move seemed like such a surefire match-ender that Bliss broke up the ensuing pinfall attempt, handing James a disqualification victory. A post-match Mick Kick to Little Miss Bliss left Alexa humiliated for the second straight week, but her combined effort against both Superstars was enough to land Mickie what she was looking for since the beginning: A Raw Women's Title Match at WWE TLC.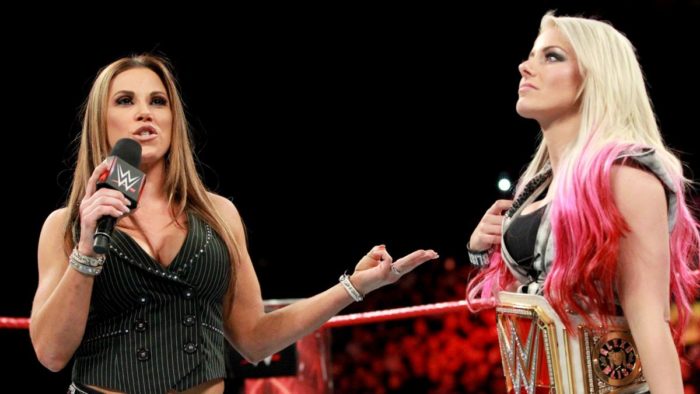 Raw Women's Champion Alexa Bliss had no issue calling Mickie James "an old lady" this past Monday night, but after suffering two slaps and a high-heeled kick to the face from the six-time Women's Champion, Little Miss Bliss might have learned a painful lesson in respect. Then again, we also doubt that she's apologetic about what she said.

"The Goddess of WWE" is undoubtedly regretting bringing Mickie back to WWE earlier this year. What will she have to say about the veteran Superstar on Raw?