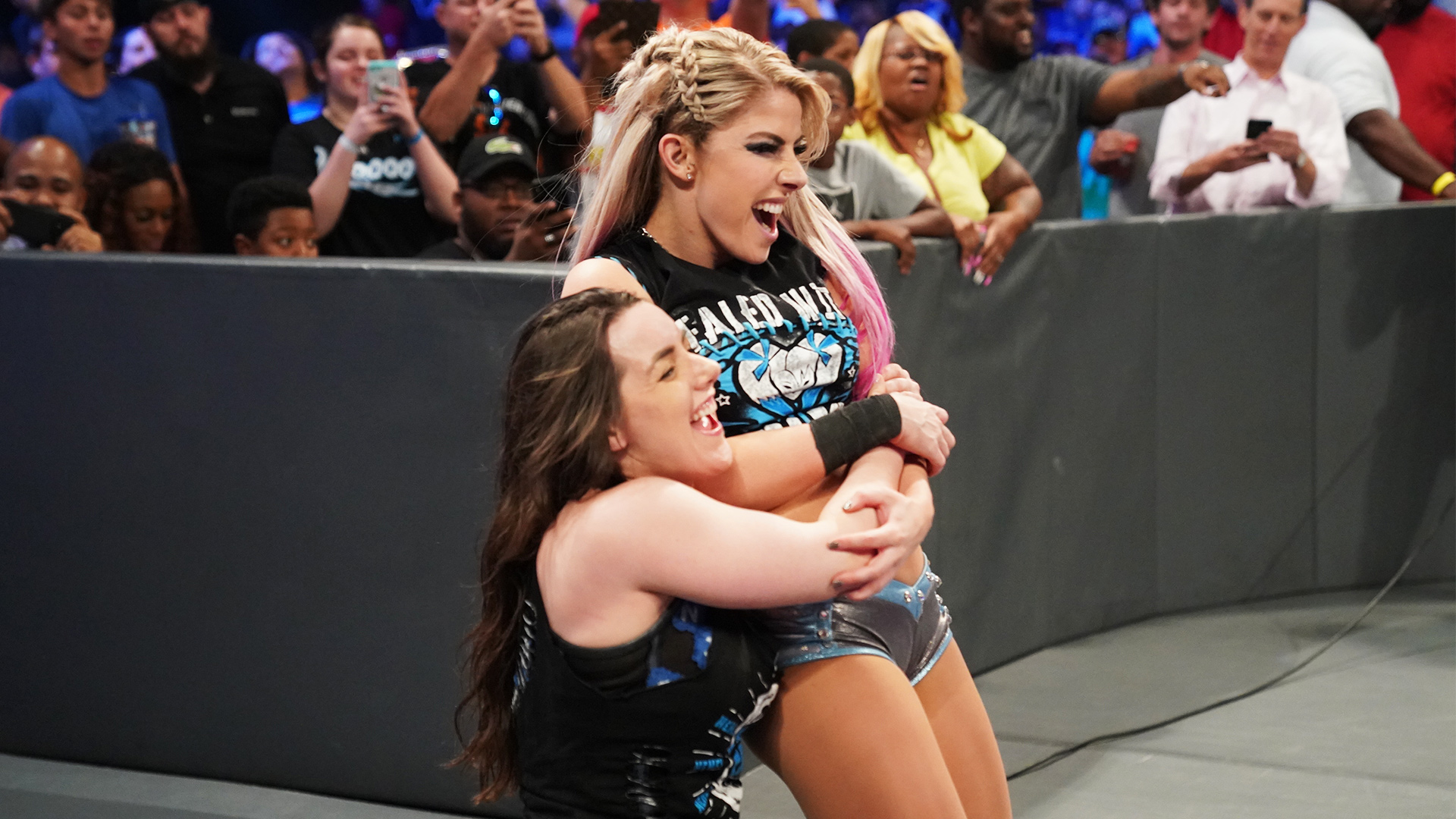 Nikki Cross and Alexa Bliss vs. Ember Moon and Bayley

We go to the ring and out first comes Ember Moon, followed by her SummerSlam opponent – SmackDown Women's Champion Bayley. Alexa Bliss and Nikki Cross are out next.

The bell rings and Moon starts off with Bliss. Moon takes control and dropkicks Bliss to the mat. Moon tags in Bayley but Bliss rams her back into the corner. Bliss charges but Bayley sends her into the top turnbuckle. Bayley keeps control on the outside as Cross approaches. Cross and Bayley yell at each other. Moon runs the ropes and nails a suicide dive on Cross. Bliss and Cross are both down again on the floor now. Moon and Bayley have words and face off as we go to commercial.

Back from the break and Cross traps Bayley in the apron cover on the outside. Cross unloads and tags Bliss in. Bliss runs and dropkicks Bayley from behind while she's trapped in the apron. Bliss brings Bayley back into the ring for a 2 count. Cross tags back in and they double team Bayley in the corner now. Cross takes Bayley back to the corner and makes another tag for more double teaming.

Bayley counters and tosses Cross out of the ring. Bliss stops Bayley from tagging. Cross and Moon both tag in at the same time now. Moon unloads on Cross and hits an enziguri to Bliss. Moon drops Cross again and kips up for a pop. Moon with a running hip attack to Cross and Bliss at the same time in the corner, sandwiching them.

Moon goes to the top and hits the Eclipse on Cross, who pushed Bliss out of the way to save her by taking the move. Bliss takes advantage and comes from behind to level Moon. Bliss ends up going to the top for Twisted Bliss on Moon. Bliss covers for the pin to win.

Winners: Alexa Bliss and Nikki Cross

After the match, Bliss' music hits as she makes her exit with Cross. Bayley checks on Moon while she's down in the middle of the ring. Bayley grabs Moon and drops her with a Bayley-to-Belly suplex out of nowhere. Fans give her a mixed reaction. Bayley stands tall over Moon and raises the title as her music plays.
Related Links:
» Gallery:
Digital Photos
» Gallery:
Screen Captures
» Gallery:
Screen Captures (WWE.com Exclusive)
Alexa Bliss and Nikki Cross are shown backstage. Alexa says she wants Nikki to host A Moment of Bliss tonight, because she deserves it for beating Carmella. Nikki tries to decline, but Alexa says she deserves it and insists.
Related Links:
» Gallery: Screen Captures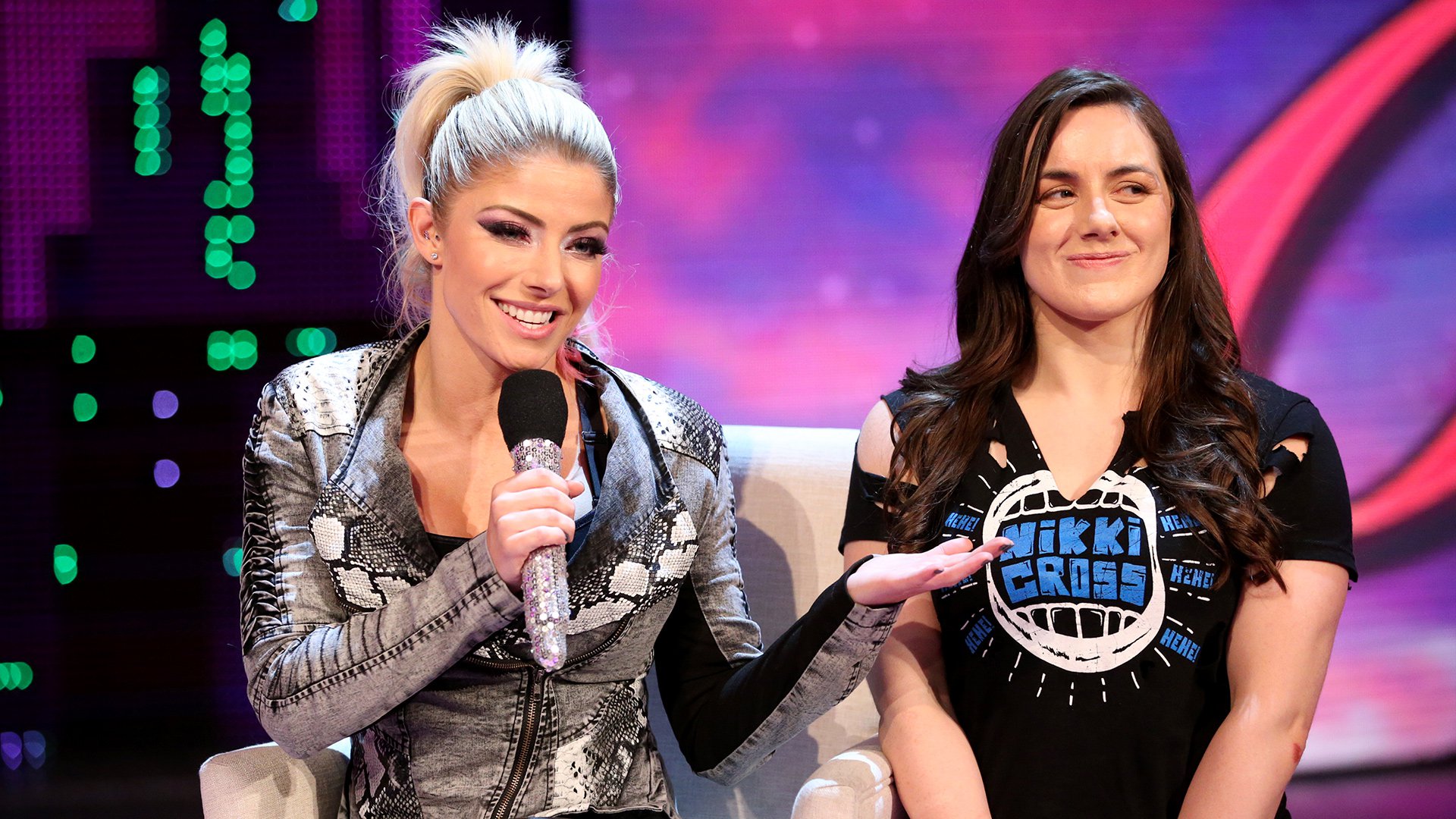 We see Alexa Bliss and her Best Friend Nikki Cross in the back as we go to commercial.

We are back with A Moment of Bliss with Alexa Bliss and Best Friend Nikki Cross by her side. Alexa welcomes everyone and introduces her special friend who will be in her corner on Sunday, Nikki Cross. Alexa asks Nikki where is her coffee and her guest barista is Bayley, but Bayley has her own coffee. Alexa says she is not surprised that Bayley is drinking her coffee and she says that Bayley is selfish. Bayley says that she would never say anything negative about Nikki and Alexa cuts her off and says that Bayley dashed Nikki's dreams of being a tag champion. Bayley says that Alexa is using Nikki. She says she is tired of Alexa talking behind her back and she dares Alexa to say it to her face.

Alexa says she knows the real Bayley. She says everyone told her that she did not belong so Alexa turned to the 'nice person' and Bayley made her feel worthless. The only person who had time for her was Charlotte. You come out here and say that you are just like everyone else. You are not a hugger, you are a liar. Bayley says that you are lying and you are doing the same thing to Nikki that you did to Nia and Mickie. You are not a goddess, you are an entitled princess who does not deserve a thing. Alexa says she is not entitled, she is better than Bayley. She has always been better than Bayley. Because she does not wait for autographs from John Cena after a show, she is better.

Bayley says that Alexa has tried to hang onto anyone who can help her get ahead. Alexa says that Bayley is a placeholder because you peaked in NXT. The one person you found so undeserving is the one who is living out the career that you wanted. Bayley punches Alexa and the furniture is messed up. Nikki pulls Bayley off and yells at Bayley. Alexa hits Bayley from behind.
Related Links:
» Gallery: Digital Photos
» Gallery: Screen Captures
We see Alexa in the locker room and she has her coffee and Nikki Cross stops by. Alexa asks Nikki if she is okay. Alexa says it is better to hear from a friend and Alexa says that people are saying things about Nikki for Nikki's interference on Monday. Alexa says that is what Bayley is really like. Alexa says Nikki can get payback tonight against Bayley. Alexa tells Nikki to think of Bayley as all of the bullies and don't hold back.

Bayley walks in the back and she is asked about Alexa's comments about liking offensive tweets about Nikki Cross. Bayley says she likes Nikki and she says that she hopes Alexa is ringside so she can watch what will happen at Stomping Grounds.

Match Number Six: Bayley versus Nikki Cross (with Alexa Bliss) in a Non Title Match

They lock up and Bayley with punches before giving a clean break. Nikki with a cross body and she slams Bayley's head into the mat. Bayley drop kicks Nikki off the apron. Bayley with a baseball slide through the corner of the ring and then Bayley gets a near fall. Nikki goes to the floor and Alexa has some advice for Nikki. Bayley goes for another baseball slide by the corner of the ring but Nikki sees it cominig and she avoids Bayley. Nikki puts Bayley in the ring skirt and kicks her. Nikki with a reverse DDT for a near fall.

Nikki with a rear chin lock byt Bayley with a snap mare. Nikki kicks Bayley to the floor and then kicks Bayley again to send her into the announce table. Nikki with a straitjacket choke. Nikki gets a near fall. Nikki with a top wrist lock and chin lock. Nikki gets a near fall. Nikki puts Bayley on the turnbuckles and puts her in the tree of woe. Nikki kicks Bayley but Bayley kicks Nikki from the turnbuckles. Bayley drops Nikki on the top rope and then returns to the ring. Nikki misses a splash into the corner and Bayley with a running knee in the corner followed by a boot and rolling thunder splash for a near fall.

Nikki with an elbow but Bayley with a Saito suplex. Alexa distracts Bayley and Nikki with an inside cradle for a near fall. Bayley with a knee to the head. Bayley goes up top and goes for an elbow drop and hits it for the three count.

Winner: Bayley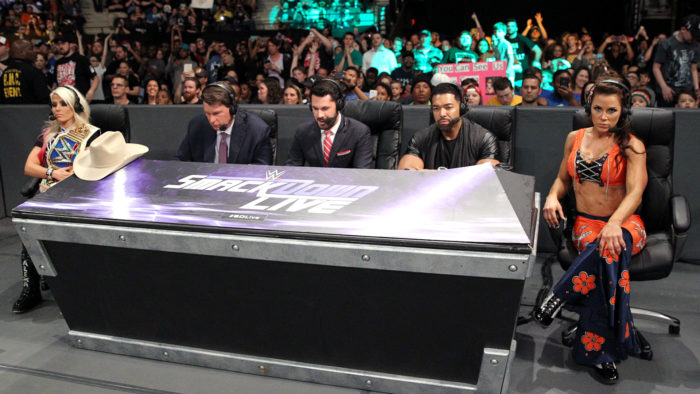 Gallery: Screen Captures > World Wrestling Entertainment > Smackdown > 2017 > March 28th
Gallery: World Wrestling Entertainment > Digitals > Smackdown > 2017 > March 28th
Becky Lynch and Carmella tried to settle their personal score before shifting their focus to the SmackDown Women's Championship Match at The Ultimate Thrill Ride.

However, the opportunity to unleash some aggression was not lost on SmackDown Women's Champion Alexa Bliss or Mickie James – both doing guest commentary for the match. When the sparks began to fly between all four Superstars, Daniel Bryan pivoted the action into a tag team match, pitting Lynch and James against Bliss and The Princess of Staten Island.

With the four feisty Superstars now competing in a tag team match, a degree of uncertainty still loomed over the proceedings, as Natalya had now made her way out to the announce table to observe the action. Though all four opponents were clearly ready for WrestleMania and looking to make a statement, The Queen of Hart(less) interjected herself into the match. With the referee distracted, James Ellsworth tripped up Lynch, allowing Carmella to pick up the victory.

After the contest, the Superstars went at it again, but they would only be able to get their licks in for so long, as Naomi returned to SmackDown LIVE and cleared the ring in a shocking moment! The former SmackDown Women's Champion then pronounced that she would be entering the SmackDown Women's Title Match at WrestleMania and that everyone would be feeling the GLOW!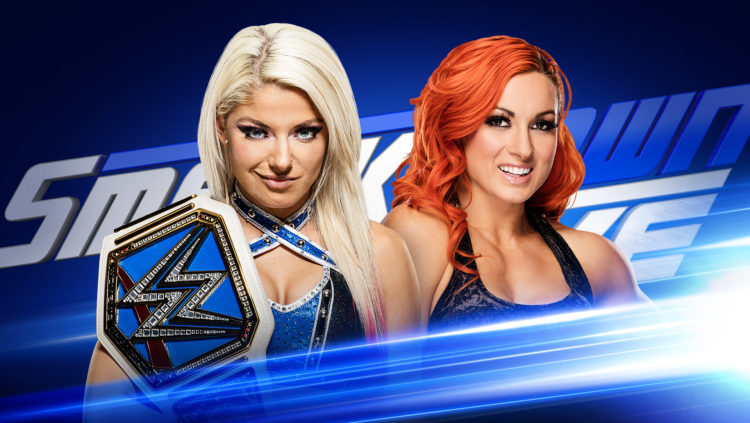 Amid continued interference by a mysterious La Luchadora (and, at times, Las Luchadoras, plural) during recent matches involving SmackDown Women's Champion Alexa Bliss and Becky Lynch, The Irish Lass Kicker made the current titleholder tap out. As a result, SmackDown LIVE General Manager Daniel Bryan has announced that Bliss will defend the SmackDown Women's Title against Lynch next week, and to avoid any outside interference, it will take place within the confines of a Steel Cage!

History will truly be made as a Women's Championship has never before been decided in a Steel Cage Match on Team Blue. Will Bliss be able to withstand the straight fire of Lynch with nowhere to run? Or will WWE's Wicked Witch fend off her No. 1 contender yet again?

Find out next week on SmackDown LIVE, next Tuesday at 8/7 C on USA Network!
Gallery: Screen Captures > World Wrestling Entertainment > Smackdown > 2016 > December 13th
Gallery: World Wrestling Entertainment > Digitals > Smackdown > 2016 > December 13th
The match was originally scheduled to be SmackDown Women's Champion Alexa Bliss taking on a local competitor … but then Alexa Bliss pulverized her before any bell could ever ring. The beat down prompted Becky Lynch's arrival, which led to a verbal spat, which led to Lynch asking for her championship rematch right then and there, which led to SmackDown Commissioner Shane McMahon making the match official … which led to a very disgruntled Ms. Bliss.

Lynch was on fire (no pun) throughout the impromptu contest, keeping SmackDown Live's resident Wicked Witch reeling. It appeared that The Irish Lass Kicker may have been closing in on regaining the title … but then Bliss seemed to injure her leg, causing her to limp around ringside, resulting in her being counted out to lose the match, but keep the championship.

Lynch was ruthless, attacking Bliss after the 10-count, however, Bliss suddenly appeared to be OK once Bliss came back at her. Bliss retreated yet again, with her title and her leg apparently ailing her again.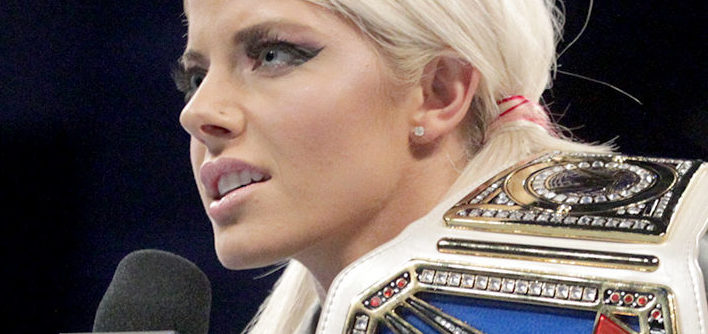 Gallery: World Wrestling Entertainment > Event Digitals > Smackdown > 2016 > December 6th
Gallery: Screen Captures > World Wrestling Entertainment > Smackdown > 2016 > December 6th
Alexa Bliss had planned on having an elaborate championship celebration to commemorate her major title victory over Becky Lynch in a Tables Match at WWE TLC, but The Irish Lass Kicker interrupted and then things just kind of went downhill from there.

Bliss and Lynch hurled insults at one another, with each seemingly questioning every fiber of the other's being before Lynch challenged the champion to a rematch right then and there, prompting Bliss to stoically exit the ring with her title in hand.

Not tonight, Becky.