Welcome back to the newly themed AlexaBliss.net! We'd had the same, Red With Envy layout on our main site for nearly the whole first year of our existence. Can you believe that? Partially my fault for leaving our main site unattended for such a long time, but alas, we're back! Our new layout was designed by the lovely Ana of Designtopia.us, who was able to get our two layouts out in less than a weeks time. Pretty spectacular in my opinion! Along with a new layout we've also cleaned up our elite affiliates list to the left of your screen, added a poll section, and the latest Pay Per View results and Total Divas section has been updated. Along with our main site getting a complete makeover, our gallery has a new layout as well, also designed by Ana!

Besides our new layouts, we'd also like to welcome Jenn from AlexaBlissDaily.com to our staff! We'd decided to combine our two sites and become the largest, most-comprehensive source for Alexa Bliss! That way you'll be receiving constant updates, photos, and more from us. I'm super stoked to have Jenn on board with us because I know how good of a site owner she is and I cannot wait to work with her more. Be sure to give her a warm welcome either in the comments or via our Twitter (@AlexaFansite)!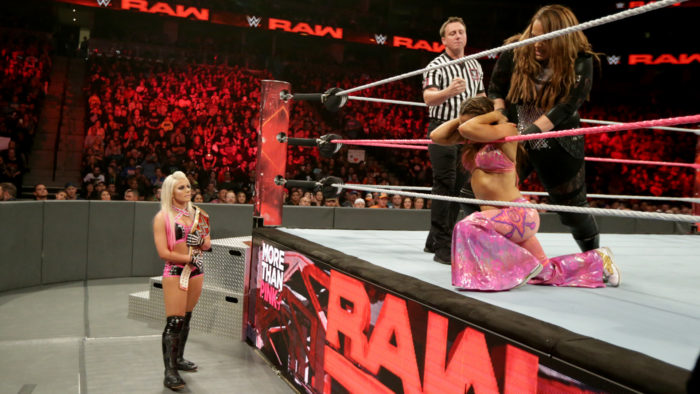 Gallery: Home > Screen Captures > World Wrestling Entertainment > Monday Night RAW > 2017 > October 2nd
Gallery: Home > World Wrestling Entertainment > Event Digitals > Monday Night RAW > 2017 > October 2nd
With Mickie James circling Alexa Bliss, it appears the Raw Women's Champion and Nia Jax's on-again-off-again partnership is on, again. Though, if what happened during Jax's bout with Mickie (a match seemingly finagled by Alexa after a backstage prank put James in the path of Little Miss Bliss' occasional enforcer) is any indication, even that might not be enough to hold James back in the long run.

Not only did Mickie refuse to give in despite a powerful display from Jax, the six-time Women's Champion James pulled off a miracle reversal to hit a tornado DDT off the ropes. The move seemed like such a surefire match-ender that Bliss broke up the ensuing pinfall attempt, handing James a disqualification victory. A post-match Mick Kick to Little Miss Bliss left Alexa humiliated for the second straight week, but her combined effort against both Superstars was enough to land Mickie what she was looking for since the beginning: A Raw Women's Title Match at WWE TLC.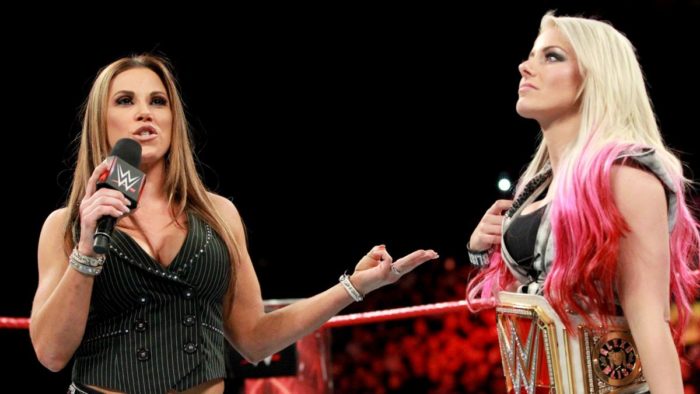 Raw Women's Champion Alexa Bliss had no issue calling Mickie James "an old lady" this past Monday night, but after suffering two slaps and a high-heeled kick to the face from the six-time Women's Champion, Little Miss Bliss might have learned a painful lesson in respect. Then again, we also doubt that she's apologetic about what she said.

"The Goddess of WWE" is undoubtedly regretting bringing Mickie back to WWE earlier this year. What will she have to say about the veteran Superstar on Raw?
Alexa Bliss fended off four Superstars to retain her Raw Women's Title at WWE No Mercy, so it was surprising that her Raw Talk interview seemed to focus more on a Superstar who wasn't in the match: Mickie James. So, the six-time Women's Champion had plenty on her mind when she interrupted Alexa's extended scolding of the WWE Universe for focusing their attention what's in the future (Asuka, for instance) instead of her, their present champion.

Little Miss Bliss wasn't about to give James the respect she demanded, instead tossing out a volley of thinly-veiled barbs about James' veteran status. Which was all good as far as Mickie was concerned; she just wanted Alexa to repeat her Raw Talk insults to her face. When she did, Mickie responded with two slaps to the face and a kick that sent the "Goddess" tumbling out of the ring — and, maybe, off her pedestal.
Home > World Wrestling Entertainment > Event Digitals > Pay Per View > 2017 > No Mercy
Home > Screen Captures > World Wrestling Entertainment > Pay Per View > 2017 > No Mercy
One huggable home-state hero, one legit boss, one self-proclaimed Women's Revolutionary, one powerhouse, no problem. Alexa Bliss is still Raw Women's Champion, defying every odd imaginable to withstand a wild Fatal 5-Way that put her in the path of Sasha Banks, Emma, Nia Jax and Bayley, who was making her in-ring return after suffering a shoulder injury last month.

The match, unsurprisingly, turned into a game of cat-and-mice, with everyone not named Nia Jax uniting against the mighty Superstar in their attempt to take the most impactful player out of the game. At one point, Emma attempted to do so by herself — just one of many audacious undertakings she took in order to finally prove to the WWE Universe that she should be recognized as the originator of the Women's Revolution.

But no amount of boldness could distract from the Nia Jax show; she pulverized everyone and everything in sight, most spectacularly with a double Samoan Drop to both Bliss and Banks. It took two group efforts by all four opponents to take her out — first, a simple dump out of the ring, and later, a savage combo of a double dropkick/powerbomb off the ring apron to the floor.

That second attempt, for a while at least, did the job, and what ensued was a chaotic free-for-all. Sasha and Bayley even came as close to blows as they have since their time together in NXT, breaking up each other's respective finishers and trading pinfall attempts on a beleaguered Bliss.

The resurgence of Jax stopped the action cold, though Emma proved herself an unlikely hero by saving Banks from a pinfall after Nia dropped a leg on her sternum. Bliss quickly got involved by ejecting Emma from the ring, and an intended charge into the corner finally took Nia out of the action when she missed her target and collided with the turnbuckle. Bliss threw Bayley into Emma as she attempted to interfere and planted The Huggable One with a devastating DDT for the victory.

If you thought Alexa would be humbled by the odds she had to overcome, however, you'd be mistaken. In a post-match interview with Renee Young, Bliss claimed she stood above the stars of Hollywood as Raw's one and only Women's Champion and the only true "Goddess" in WWE. In fairness, this is true. There aren't many people who have been able to stand toe-to-toe with the "Goddess" … so far.
They don't call Alexa Bliss "small but fierce" for nothing. Following a "coronation" this past Monday night that put the new Raw Women's Champion on an all-too-literal pedestal, the self-proclaimed "Goddess of WWE" was victorious in an Eight-Woman Tag Team Match, scoring the victory for her team after raking the eyes of Bayley and pinning The Huggable One.

That win marked the second time in as many nights that Bliss had pinned Bayley — the first being at WWE Payback, where she defeated the fan-favorite Superstar to become the first competitor to win the Raw and SmackDown Women's Titles. Will Bliss maintain her momentum in London, or will Bayley rebound against the new champion's "Five Feet of Fury"?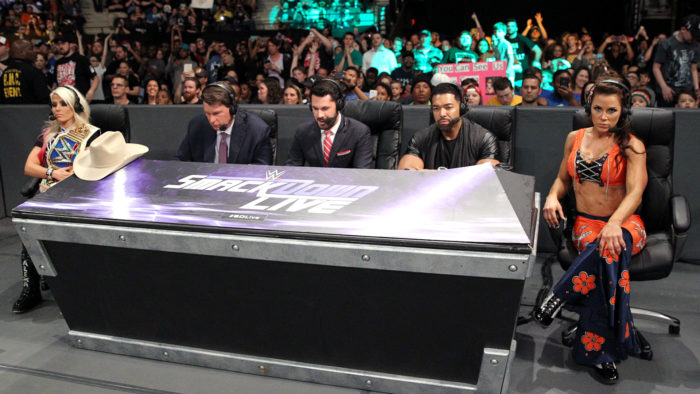 Gallery: Screen Captures > World Wrestling Entertainment > Smackdown > 2017 > March 28th
Gallery: World Wrestling Entertainment > Digitals > Smackdown > 2017 > March 28th
Becky Lynch and Carmella tried to settle their personal score before shifting their focus to the SmackDown Women's Championship Match at The Ultimate Thrill Ride.

However, the opportunity to unleash some aggression was not lost on SmackDown Women's Champion Alexa Bliss or Mickie James – both doing guest commentary for the match. When the sparks began to fly between all four Superstars, Daniel Bryan pivoted the action into a tag team match, pitting Lynch and James against Bliss and The Princess of Staten Island.

With the four feisty Superstars now competing in a tag team match, a degree of uncertainty still loomed over the proceedings, as Natalya had now made her way out to the announce table to observe the action. Though all four opponents were clearly ready for WrestleMania and looking to make a statement, The Queen of Hart(less) interjected herself into the match. With the referee distracted, James Ellsworth tripped up Lynch, allowing Carmella to pick up the victory.

After the contest, the Superstars went at it again, but they would only be able to get their licks in for so long, as Naomi returned to SmackDown LIVE and cleared the ring in a shocking moment! The former SmackDown Women's Champion then pronounced that she would be entering the SmackDown Women's Title Match at WrestleMania and that everyone would be feeling the GLOW!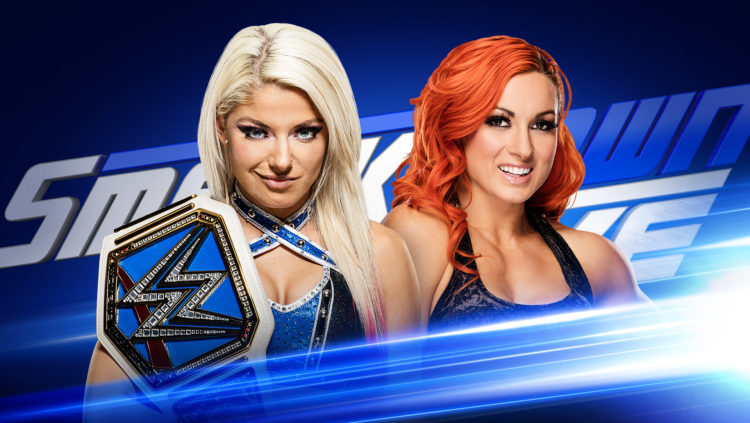 Amid continued interference by a mysterious La Luchadora (and, at times, Las Luchadoras, plural) during recent matches involving SmackDown Women's Champion Alexa Bliss and Becky Lynch, The Irish Lass Kicker made the current titleholder tap out. As a result, SmackDown LIVE General Manager Daniel Bryan has announced that Bliss will defend the SmackDown Women's Title against Lynch next week, and to avoid any outside interference, it will take place within the confines of a Steel Cage!

History will truly be made as a Women's Championship has never before been decided in a Steel Cage Match on Team Blue. Will Bliss be able to withstand the straight fire of Lynch with nowhere to run? Or will WWE's Wicked Witch fend off her No. 1 contender yet again?

Find out next week on SmackDown LIVE, next Tuesday at 8/7 C on USA Network!