Nikki Cross approaches Alexa Bliss backstage to talk about her loss to Bayley last night. They decide that Alexa can get a rematch, but they need to come up with a plan.

Back from the break, Natalya and Naomi approach Nikki Cross backstage and tell her that Alexa is not a good person and isn't to be trusted. Naomi explains that they've been dealing with Alexa for years and know how it is. Nikki says she knows Alexa's reputation, and then Alexa barges in and asks if Nikki is talking behind her back. Alexa and Naomi exchange words, and they all walk off.

Naomi vs. Alexa Bliss: Nikki Cross is at ringside. Naomi dodges some shots early on, but Alexa finally connects and drops her. Naomi fights back and hits the split leg drop for a two count. Alexa rolls outside for a breather. Naomi goes for a baseball slide kick, but she accidentally hits Nikki instead. Back in the ring, Alexa hits a DDT on Naomi for the three count.

Winner: Alexa Bliss

After the match, Alexa beats down Naomi. She tells Nikki to come in and join her. Nikki doesn't seem to want to take part in the two on one beat down. Natalya runs out for the save, and Alexa and Nikki leave.

Natalya & Naomi vs. Nikki Cross & Alexa Bliss: This match was booked during the commercial break. Natalya starts off strong against Nikki and clotheslines her down for a two count. Nikki fights back and Alexa tags in. Natalya turns things around against Natalya and hits a series of knee strikes on her in the conrer. Naomi tags in and hits a full nelson slam for a two count. Naomi slams Alexa's head into the middle turnbuckle, then Natalya tags in and continues the offense. Nikki distracts Natalya which leads to Alexa hitting a right hand on Natalya for a two count. Natalya fights back and hits a powerslam for a two count. Natalya hits a series of suplexes and then looks for the Sharpshooter. Alexa fights out and tags in Nikki. Nikki drops Natalya and then knocks Naomi off the apron. Nikki hits a splash in the corner and then a running bulldog on Natalya for a two count. Nikki dropkicks Natalya and then goes to the top rope. Nikki hits a flying cross body for a two count. Alexa tags in on Nikki's back. Nikki hits a neckbreaker on Natalya, then Alexa runs in and steals the pin on Natalya for the three count

Winners: Alexa Bliss & Nikki Cross
Related Links:
» Gallery: Digital Photos
» Gallery: Screen Captures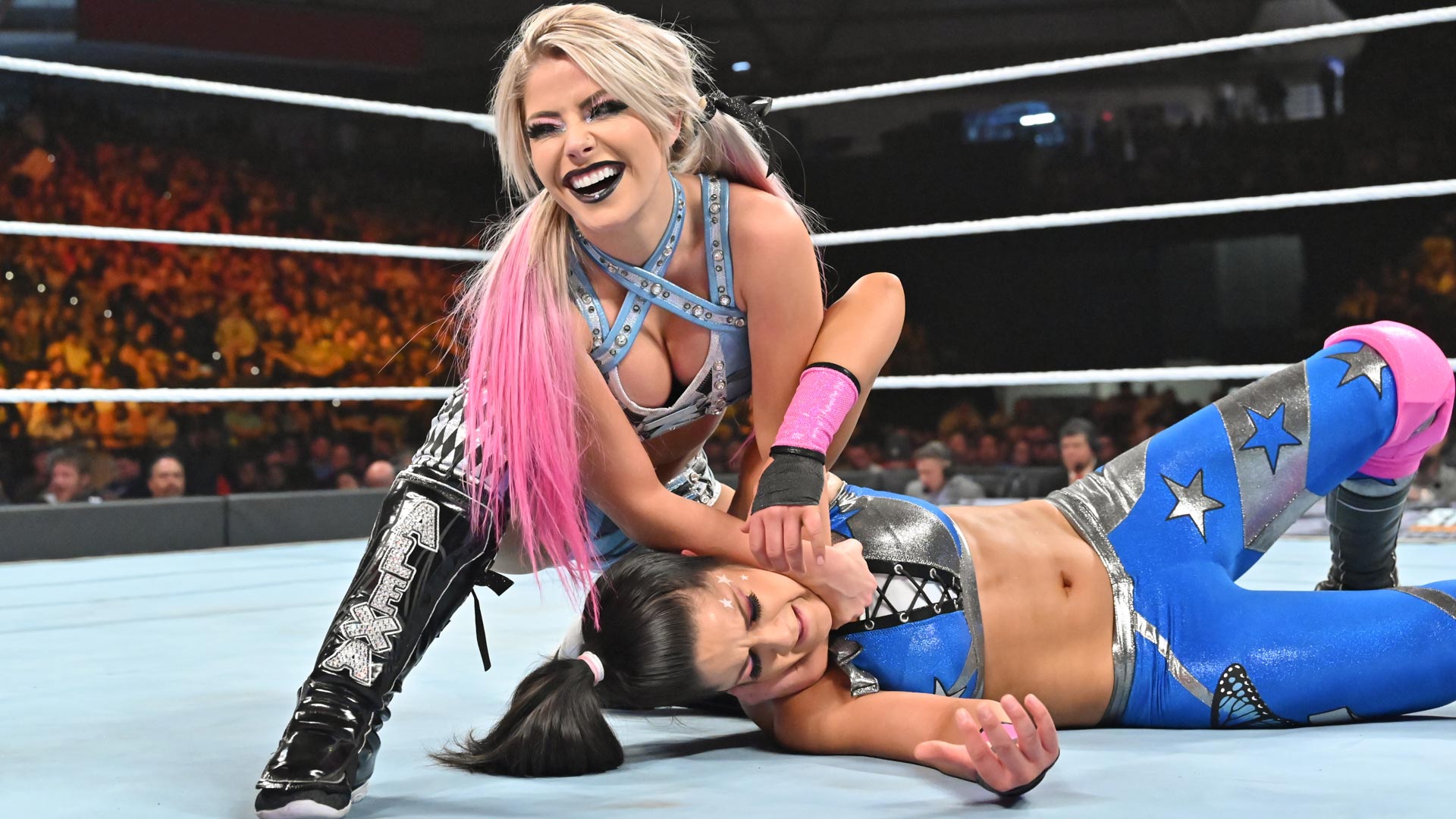 Alexa Bliss and Nikki Cross are backstage talking about Bayley. Nikki says Bayley screwed her over on Monday, and she can't wait to see Alexa take it to Bayley tonight.

Bayley (c) vs. Alexa Bliss: Nikki Cross is at ringside in Alexa's corner. The opening bell sounds and Bayley and Alexa immediately brawl into the corner and trade strikes. Bayley gets the upper hand and hits a running knee strike for a two count. Bayley hits the snake-eyes on Alexa in the corner for a two count. Alexa turns it around and starts teeing off on Bayley in the corner. Alexa chokes Bayley over the middle rope, then applies a rear chin lock. Alexa tries to keep the Champion grounded, but Bayley fights back and hits a running cross body for a two count. Alexa comes back with a slap across the face to the Champion. Bayley fires up now and drops Alexa, then hits the rolling thunder elbow drop. Alexa fights back and dumps Bayley outside, then throws Bayley into a ring post. Back in the ring, Bayley reverses a shot and hits a back suplex. They fight out to ringside again and Nikki causes a distraction. Bayley hits a suicide dive on Nikki on the floor, and it looks like Bliss shoved Nikki in the way of the dive to save herself. Alexa then hits a sunset flip bomb on Bayley on the floor. Back in the ring, Alexa goes up top. Nikki runs in the ring to go after Bayley, but the ref chases her off. Alexa goes for the Twisted Bliss, but Bayley gets her knees up to block it. Bayley follows up with the belly to belly suplex for the three count.

Winner & still SmackDown Women's Champion: Bayley

Nikki gets in the ring earlier and tries to console Alexa as Bayley celebrates. Alexa looks confused by what happened.
Related Links:
» Gallery: Digital Photos
» Gallery: Screen Captures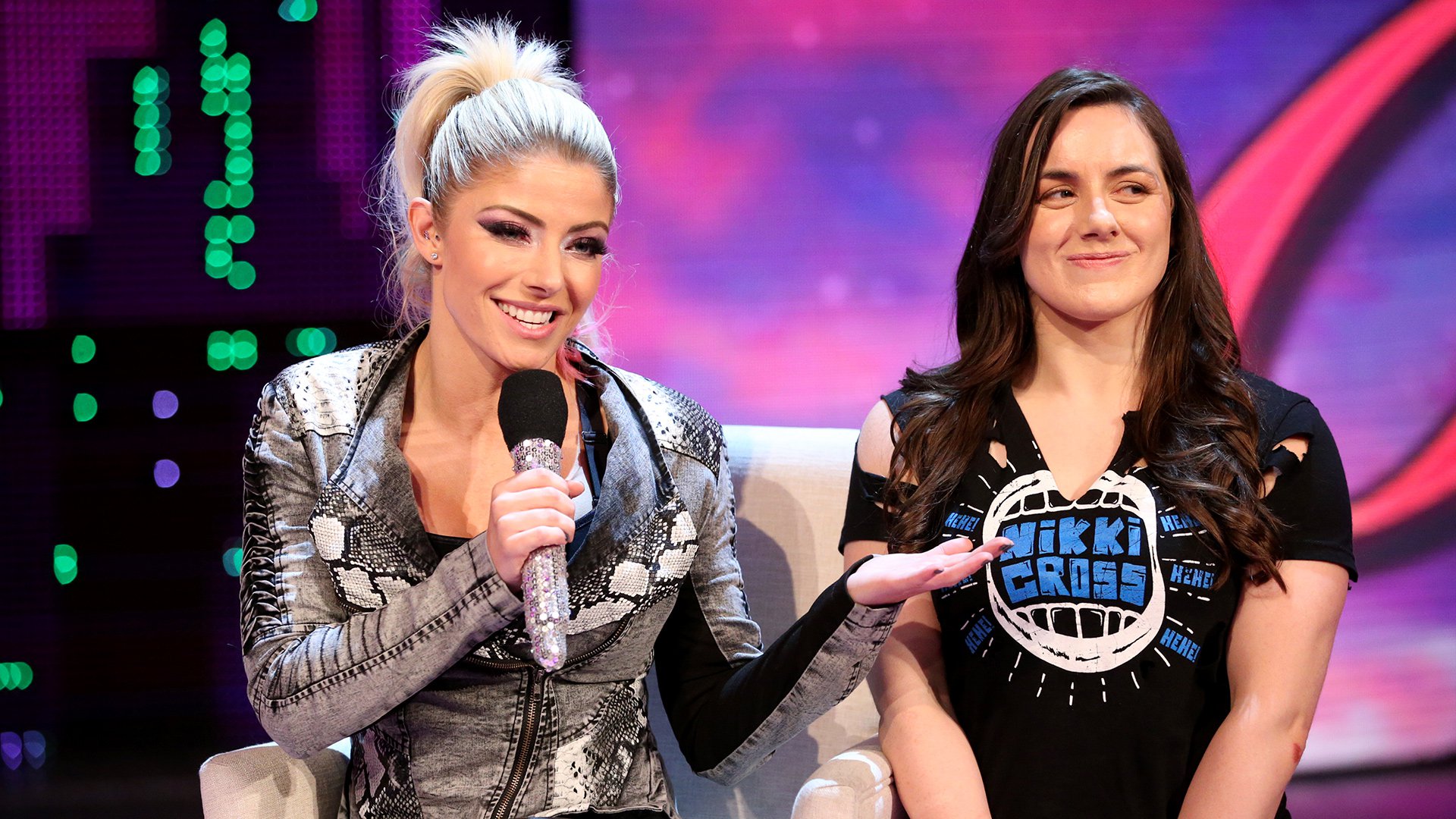 We see Alexa Bliss and her Best Friend Nikki Cross in the back as we go to commercial.

We are back with A Moment of Bliss with Alexa Bliss and Best Friend Nikki Cross by her side. Alexa welcomes everyone and introduces her special friend who will be in her corner on Sunday, Nikki Cross. Alexa asks Nikki where is her coffee and her guest barista is Bayley, but Bayley has her own coffee. Alexa says she is not surprised that Bayley is drinking her coffee and she says that Bayley is selfish. Bayley says that she would never say anything negative about Nikki and Alexa cuts her off and says that Bayley dashed Nikki's dreams of being a tag champion. Bayley says that Alexa is using Nikki. She says she is tired of Alexa talking behind her back and she dares Alexa to say it to her face.

Alexa says she knows the real Bayley. She says everyone told her that she did not belong so Alexa turned to the 'nice person' and Bayley made her feel worthless. The only person who had time for her was Charlotte. You come out here and say that you are just like everyone else. You are not a hugger, you are a liar. Bayley says that you are lying and you are doing the same thing to Nikki that you did to Nia and Mickie. You are not a goddess, you are an entitled princess who does not deserve a thing. Alexa says she is not entitled, she is better than Bayley. She has always been better than Bayley. Because she does not wait for autographs from John Cena after a show, she is better.

Bayley says that Alexa has tried to hang onto anyone who can help her get ahead. Alexa says that Bayley is a placeholder because you peaked in NXT. The one person you found so undeserving is the one who is living out the career that you wanted. Bayley punches Alexa and the furniture is messed up. Nikki pulls Bayley off and yells at Bayley. Alexa hits Bayley from behind.
Related Links:
» Gallery: Digital Photos
» Gallery: Screen Captures
We go backstage where a production assistant is knocking on Alexa Bliss' locker room door with a coffee for her. She doesn't answer, so he walks in, and sees Alexa Bliss only half-dressed. Alexa tells him off and instructs him to place the coffee on her table. He puts it down and leaves her locker room. Alexa continues getting dressed as we go back to the commentary table. Renee Young introduces a trailer for the new Glass movie.

Alexa Bliss comes out to host her "Moment of Bliss" show. First, Alexa unveils the new WWE Women's Tag Team Title belts. Paul Heyman then comes out and interrupts himself. Heyman takes a seat and begins fielding questions from Bliss. Heyman guarantees that their strategy will allow Brock Lesnar to retain his Universal Title at Royal Rumble no matter who his opponent is. As Heyman is talking about Lesnar's potential opponents, Otis of Heavy Machinery comes out and interrupts. Tucker comes out and tries to haul Otis off. Tucker and some referees haul off Otis, and that appears to be the end of the segment.
Related Links:
» Gallery: Digital Photos
» Gallery: Screen Captures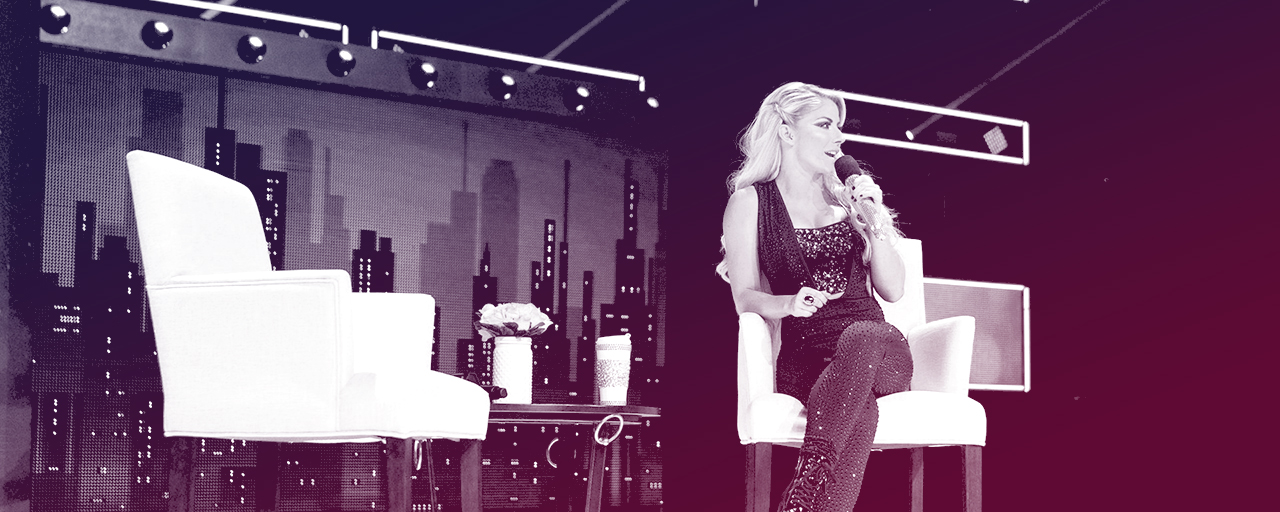 We see Alexa Bliss in the back getting her makeup done.

After the break, Alexa comes out to the stage for her new talk show, "a Moment of Bliss." Alexa demands a coffee from a production assistant, and then she introduces a video package looking at Ronda Rousey's time in WWE so far. Alexa introduces Ronda out to the stage, then she asks her about her career in WWE so far. Ronda says in order to be a champion everyone is proud of, she has to chase her limits. Ronda says she wants to go after the real next top woman in WWE, Sasha Banks. Nia Jax comes out and interrupts, saying Ronda must have a girl crush on Sasha. Nia demands a rematch from Rousey, and then Sasha Banks comes out to the stage. Sasha tells Ronda she's honored by her kind words, and it would be a pleasure for her to teach Ronda how to lose with class. Nia gets in Sasha's face and says there's a 300 pound Samoan in front of her, and Sasha needs to get in line. Sasha says "bitch, what line," and tells Nia to get in the ring with her now, and it looks like we've got a match.
Related Links:
» Gallery: Digital Photos
» Gallery: Screen Captures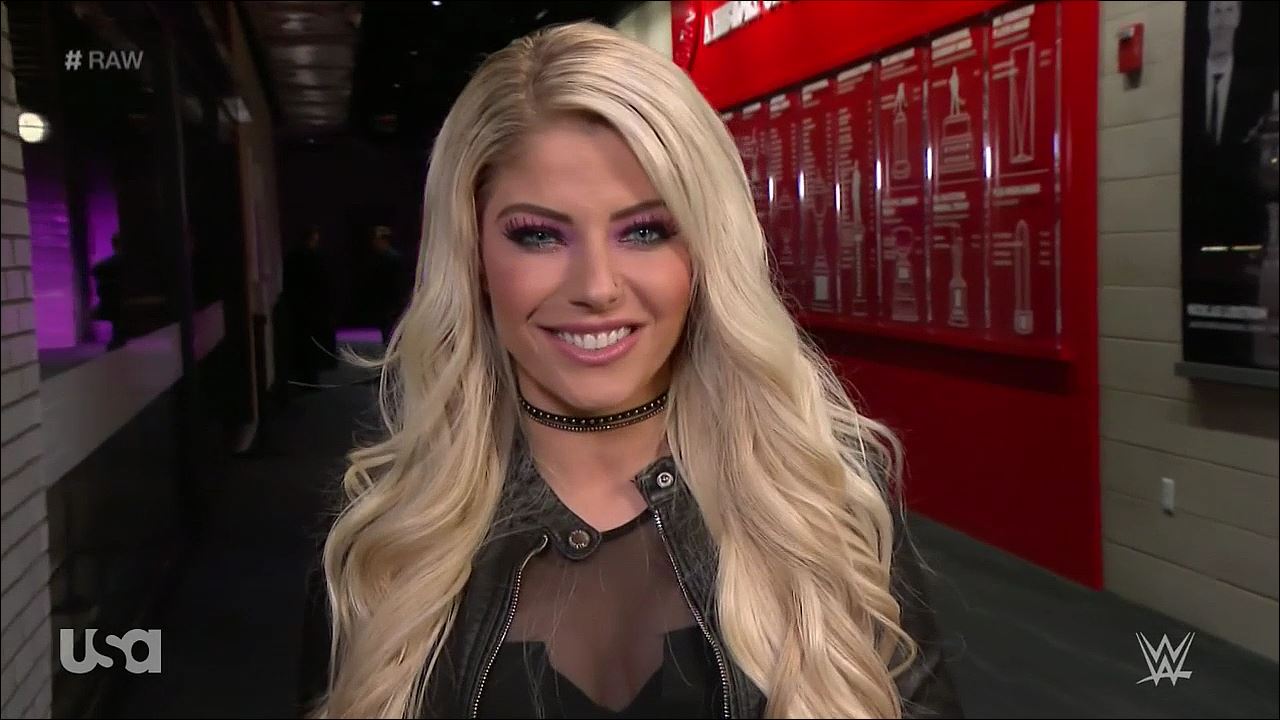 Alexa Bliss talked about being in charge of the Women's Division in 2018 and how she'll miss having that power. She said she made history, though, and next week she'll make more history. She said next week will be the premier of her very own talk show "A Moment of Bliss." She said she'l be the first woman to host a talk show and her first guest will be Ronda Rousey. She brought up that Rousey worshipped Roddy Piper, but she suggested she dress appropriately for the occasion because she'll "be in the presence of a goddess, not slumming it in some pit."
Related Links:
» Gallery: Screen Captures